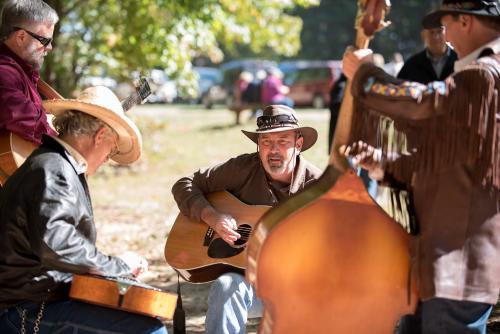 With a "Hart" for preservation and keeping traditions alive - Hart Square takes you back to a time where handcrafted and hard work was the way of life. They meant survival. Most people aren't aware of Hart Square Village and that it's located in Vale, NC. One of the best-kept secrets from the Hickory Metro region, Hart Square Village is home to North America's (maybe even the world's) largest collection of log structures from the 1800s. The village is truly hidden in nature and has been kept that way through the years to preserve the sacred space that preserves the history of this part of the Appalachian's. While in years past the Annual Festival was the only way to explore the village - the new life source and pule of the village is bringing people in year-round for school field trips, classes, special events, and yes, the always growing Annual Festival.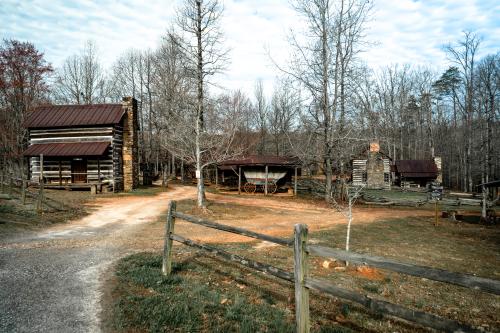 Every October, the Village comes alive with the Annual Hart Square Festival, and this year being the 37th year, we look forward to seeing the hundreds of volunteers, docents, and descendants of families join together to time-hop back to the 1800s. As you enter the metal gates, you are sent back to a time when horses led the way for transportation, farming, and everyday life. The sound of the washtub bass and the saw (think fiddle bow and bent saw blade) ring through the air with traditional Appalachia music. Local potters, specializing in Catawba Pottery, throw pieces all year to be able to fire their masterpieces in the authentic underground kiln - a true and rare opportunity. 
The only working cotton gin in the Southeast is located on the property along with an authentic cotton press, blacksmith, printing press and print shop, many original family home places, and more. A unique and eye-opening experience to the way things truly were in the 1800s - there is no other experience like it. 

While you're in town for the Hart Square Festival, make sure to tack on a few more things to round out your weekend this Autumn. Another hidden historical gems are The Harper House, located in Downtown Hickory. The Harper House is a well-maintained 1887 home that was actually privately owned until the early 2000's when it was acquired by the Historical Association of Catawba County. Gold leaf on the ceiling, Queen Anne style interior, and breathtaking stained glass windows are just a few of the house's beautiful qualities - there is also a speakeasy located in the attic! This is definitely one to add to the History bucket list for the area. 
After a day of exploring, what is better than dinner with a view? Check out some of these outdoor dining options this fall!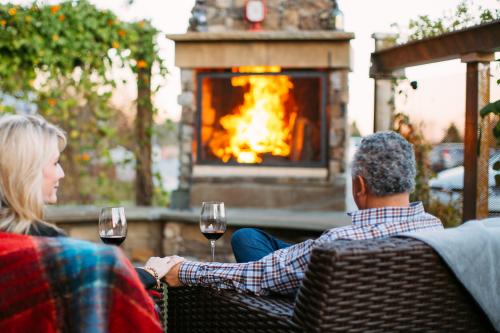 1. BOCA features beautiful outdoor dining in a garden/patio atmosphere with a stone wood-burning fireplace. Take your pick from the family-style Mediterranean and Tapas menu items or choose to taste test your way through traditional Moroccan fare. BOCA is an authentic experience with exceptional customer service and a relaxing vibe for a beautiful evening under the stars. A couple of our favorites are the Chicken Tagine, whipped ricotta, grilled salmon, and the beet and arugula salad. 
2. Cafe Rule & Wine Bar offers an exceptional hand-crafted menu of items like daily assorted "deviled eggs" or the fresh-fired pizzas and an even more impressive wine and cocktail menu. Take your time enjoying the evening and escape to their garden area under strung lights and a canopy of amber, orange, and golden leaves. Don't forget to order dessert - their popcorn ice cream is a dream! Popcorn-flavored ice cream with sea salt and a caramel drizzle - it is simply amazing! 
3. Mas Amor Cantina is one of our newest locations and offers a second-floor view of Hickory's beautiful sunsets. Whether you are outdoors on the patio area or inside by the industrial floor-to-ceiling windows, you are in for one of the best sunset views in the area. Now, for the food - Tex-Mex with a mid-century modern flair. Mas Amor is known for their eccentric margaritas (and boy, are they delicious!) but also their homestyle Tex-Mex dishes! Street corn with melted butter, Spicy chorizo nachos, specialty tacos, and more - you can't go wrong! Trust us - we have tried almost the entire menu! 
To round out your weekend in Hickory, we wanted to show you a couple of places to stay in the area. While we offer several options for traditional hotel accommodations (we get it - we like those loyalty points too) we also offer some downtown locations that give you the opportunity to walk to much of what's going on at night!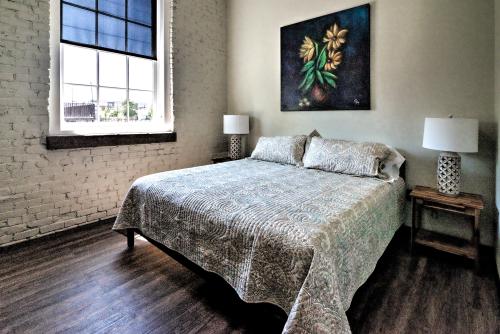 2nd Street Inn is located in Downtown Hickory along the newly finished City Walk. This 14-room location can be booked through AirBnB or the 2nd Street Inn website. Each room is uniquely decorated with custom artwork and furniture pieces, an industrial with original brick walls and the original elevator wheels. The Inn was created with a vision to offer downtown lodging for people to be able to enjoy what all Hickory has to offer in the evenings. Walk to downtown restaurants, shops, and nightlife. Catch outdoor concerts in downtown Hickory on the Square or at the Hum, Hickory's newest outdoor music venue.  
Sweet Tea Bed & Breakfast offers a unique B&B experience in the heart of Conover. Each morning you are greeted with a delicious assortment of breakfast goodies hand prepared by the Inn Keepers & Owners, Ralph & Patricia. Customer comfort and service are their main priority, so you are sure to feel right at home in this 1920s historic home. Each room has been beautifully restored and decorated to make each guest feel welcomed from the locally crafted furniture to the handmade soap - it is truly a warm and inviting space from the moment you check in. 
We hope you enjoy your weekend exploring these Lesser-Known Autumn Adventures. To learn more about things to do in the area, be sure to hop over to our things to do page. Interested in our outdoor attractions, hiking, biking, and more. Click here!