From our vibrant downtowns to peaceful nature attractions, the Hickory Metro has something for every kind of trip, whether you're looking to reunite with family or reconnect with your partner. And planning a getaway to our region is easy. Our travel tools not only aid in trip planning but help inspire your next vacation to our four-season destination in North Carolina. We can't wait to meet you!
Learn & Explore
Stay in the know and learn more about the Hickory Metro from the comfort of your own home.
Sign up for our e-newsletter to see what new attractions are developing in our growing region, situated between Asheville and Charlotte. For more trip inspiration, embark on a virtual tour of local attractions available on MyHKY.com. 
Learn where to go and what to do from people who know the Hickory Metro well. Our blog features articles written by local writers covering everything from restaurants to family-friendly attractions. Another great resource is our downloadable visitor's guide, which is updated every two years. If you'd like to learn more about Catawba County and the Hickory Metro, as well as our surrounding communities, click here. 
More Fun Travel Resources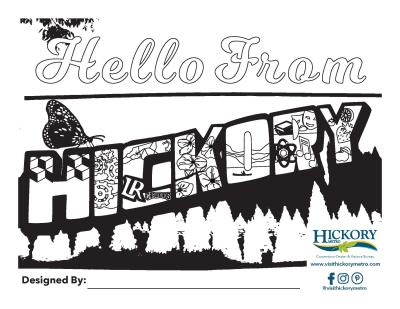 Before visiting our region, know that the health and safety of everyone is our top priority. Check out our health and safety protocols to learn more about what area businesses, including restaurants, are doing in response to COVID-19. 
In anticipation of your trip or to inspire the next one, use our themed virtual meeting backgrounds at your next meeting or event. Choose between the backdrop of Bakers Mountain Park or downtown Hickory, among others. You may even inspire your colleagues and friends to visit. 
And if you're planning to bring the kids along for a family vacation, get them excited about the trip with a downloadable coloring sheet of the Hickory mural. 
Plan a memorable getaway to our region today!