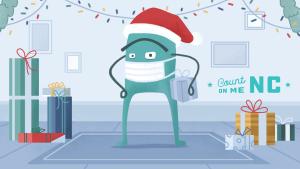 As the Holiday season approaches and with COVID-19 in the forefront of everyone's mind, people may be wondering just how to enjoy the Holiday season safely. We have pulled together some of the top events in the Hickory Metro to enjoy this season. Be sure to bring along your mask and your hand sanitizer and enjoy the Holiday's in the Hickory Metro!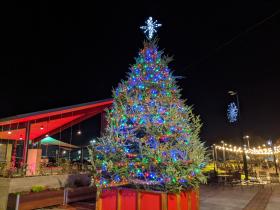 1. Virtual Tree Lighting with the City of Hickory - Sadly this year the in person tree lighting that takes place after the Annual Lowe's Foods Christmas Parade has been transitioned to a virtual event. We are anxiously awaiting the special date to be announced. Remember to follow out social media pages and the City of Hickory's social media pages to catch all the updates. Even though we can't all be together this year for the tree lighting, there is still reason to get excited! Santa is rumored to be making an appearance and we have some suggestions on how to make this years virtual event super special! 
Watch at home with your family and be sure to dress for the event. We suggest your most comfy Christmas Jammies or even a special costume (please post those on social media and tag us! @visitHickoryMetro)

Get your Christmas goodies ready to go early - hot coco, Christmas cookies, popcorn, candy canes, for the adults - grab a pint of the Olde Hickory Brewery Christmas Ale with a miniature candy cane on the side and all your other Holiday favorites! 

Call ahead and grab your DIY kits for a Christmas craft at home - check out Nailed it D.I.Y. Studio, Wine & Design and AR Workshop for ideas. 

Lastly, and most importantly work on your home made Christmas Cards to send to family and friends this year and don't forget your letter to Santa! Be sure to drop those letters to Santa in the mail box outside of Rose and Daisy in the Town of Catawba. All letters to Santa will be answered! 
2. Drive through Living Nativity - December 3-6th & 9-13th - gates open at 6:30pm and close at 9:00pm- Oxford Baptist Church on Highway 16 & Springs Rd. - Enjoy this living Nativity from the comfort and safety of your own vehicle for Free. Please remember to enter the Nativity from the Springs Road entrance of the Church.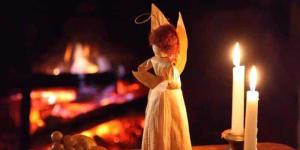 3. Christmas in the Village at Hart Square Village - December 4-5, 2020 - Things to expect include: Eight historic 1800's cabins decorated for the season, making of cornhusk angel ornaments roasting Chestnuts on an open fire, lessons and Christmas carols by candlelight with music from an original pump organ, delicious Brunswick stew, ham biscuits, molasses cookies and apple cider. Tickets are $50 each and all proceeds from this event support the Hart Square Foundation, which ensures the preservation of the Village and educational programming throughout the year. Event is rain or shine - no pets allowed.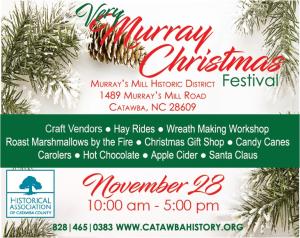 4. Very Murray Christmas Market - Saturday, November 28th - 10:00am - 5:00pm - Murray's Mill Historic District - 1489 Murray's Mill Rd, Catawba, NC - A beautiful Christmas market at the historic Murray's Mill will be filled with Christmas Trees, fresh baked breads, music and crafters! Grab your mask and start the holidays with a Very Murray Christmas!
5. Drive through Christmas Parade in Downtown Newton - Saturday, November 21st - 5:30pm - 7:30pm  Drive through Downtown Newton to see all of the parked, decorated floats. You can also see the 1924 Courthouse beautifully lit for the holiday season! At the end of the tour, you can drive by Santa and drop off a letter! Join the safe and fun way to enjoy the Christmas parade from the safety of your car. 
Pro Tip - Decorate your car for the parade! Lights, light up antlers, a big red nose and much more! We can also see a theme car possibly... your favorite Christmas movie?! The options are endless! Join the fun and magic of the Holidays in the Hickory Metro. 

6. Trail of Lights with the Waldensian Trail of Faith - November 25 - December 24 nightly 6:00pm - 9:00pm. Drive through this Historic outdoor museum that will consist of more than 100,000 LED bulbs to experience the Trail of Faith which portrays the history of the Waldensians back to the time of the biblical apostles. This museum tells the tale of how they traveled from the Alpine Valleys of Italy to the foothills of North Carolina. You can also grab a cup of hot chocolate and hot apple cider for $1 a cup. A $1 donation is asked per car who attends to help with expenses of the Trail and helps the "Trail Friends" keep the lights burning bright each year. 401 Church St NW, Valdese, NC 28690-2309, United States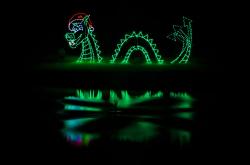 7. Drive through light village at J. Iverson Riddle Development Center - Morganton - Traditionally starts the first weekend in December and runs nightly from 5:30pm - 10:00pm. Donations are accepted. Safely remain in your car with your family as you drive through a small village of your favorite characters, lights and more.