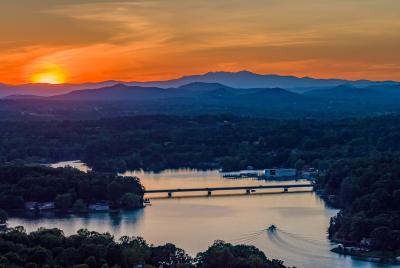 Here in the foothills Fall is a wonderful time to explore our outdoor adventures, culinary dives and simply take in the vibrant community that makes up the Hickory Metro. Our Fall foliage is beyond beautiful and we can't wait for you to explore what we think are some of the top places for leaf looking. 
1. Rotary-Geitner Park - Hickory, NC (Catawba County) - These gorgeous 96 acres include a boat dock and launch ramp, fishing pier, gazebo, miles of mountain biking and nature trails, a paved bikeway, a picnic shelter with tables and grills, an activity building, and restroom facilities. For individuals who prefer to be near the water, this park is just right for you! Take a hike or walk through the lush park to feel surrounded in bright fall color. Photo: Chad Austin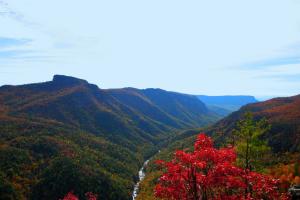 2. Brown Mountain Lights Overlook - Morganton, NC (Burke County)- Overlooking the Linville Gorge - the Brown Mountain Lights overlook is a great way to not only test your luck in trying to see the phenomenon known as the Brown Mountain Lights, a mysterious light presence that floats across that part of the Blue Ridge Mountains. But you can also see the beautiful fall foliage as the trees come alive with color. Photo: Discover Burke County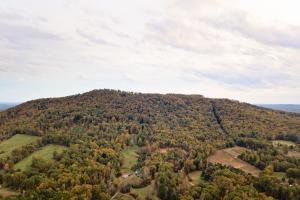 3. Bakers Mountain Park - Hickory, NC (Catawba County) - Bakers Mountain Park is located on the highest elevation point in Catawba County (1780 feet). The park features 189 acres of mature Chestnut Oak forest with nearly 6 miles of trails. You will experience a variety of wildlife and plants native to the North Carolina Mountains.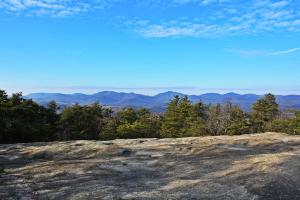 4. Rocky Face Recreational Park - Hiddenite, NC (Alexander County) - Rocky Face Mountain Recreational Area, affectionately known as Rocky Face Park, originated as a rock quarry in the 1920s and is now a park owned and operated by Alexander County in the rural and beautiful community of Hiddenite, NC. The park offers rock climbing, more than five miles of hiking trails with breathtaking views of the mountains and some say on clear days a view of the Charlotte City skyline, 60 established rock-climbing routes, about 25 geocaches, an adventure playground, an ADA paved walking track, a unique ecosystem, picnic spots, restrooms, and more. Photo: Visit Alexander County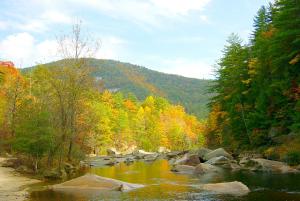 5. Wilson's Creek - Caldwell County, NC - Thousands of acres of wilderness comprise the Wilson Creek area, one of North Carolina's most pristine and rugged terrains. Camping, kayaking, hunting and fishing, waterfall hikes, off-road driving, and mountain biking are available in select areas. Opportunities for adventure and activity abound for every skill level including the most experienced outdoorsmen.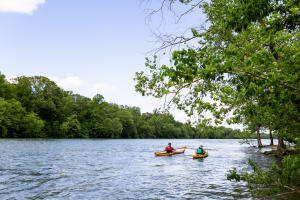 6. Riverbend Park - Catawba County, NC - Riverbend Park features 690 acres with 1.25-miles of shoreline along the Catawba River, and 19.7 miles of trails. You can experience a variety of wildlife habitats that range from freshwater wetlands to upland forest. This park also includes a dog park so be sure to bring along your furry friend. There are also launch locations for kayaking to take in the gorgeous leaves on the water.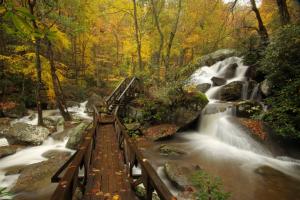 7. South Mountain State Park - Burke County, NC - Just south of Morganton and Valdese is the largest state park in North Carolina. More than 40 miles of trails and an 18-mile mountain bike loop. Elevations up to 3,000 feet and an 80-foot waterfall provide excellent views. Activities include equestrian camping, primitive camping, trout fishing, mountain biking, picnicking and hiking. Photo: Discover Burke County