GATHER & GRAZE
Jessica Anaya, a Catawba County native and owner of Simply Jam'n Boards, takes her love of food and family to the next level with her uniquely designed charcuterie boards, boxes, and grazing tables.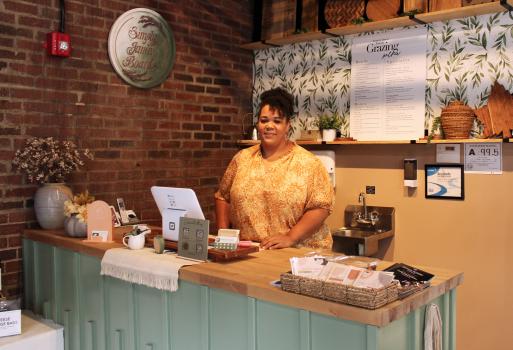 Through the years, food always took center stage at all of Jessica's family gatherings. Her love of food and desire to provide delicious treats to family and friends forged a lifelong passion for the culinary arts. After studying culinary arts at Asheville-Buncombe Technical College, Jessica married her husband and felt the call of home, so she returned to the city she loves. Being a stay-at-home mom, she found a creative outlet for sharing her passion for food and fellowship by catering on the side. 
With catering, she began crafting meals for others but wanted a way to focus on her own family. Thus came the delicious idea of crafting charcuterie boards for friends and relatives to share her passion and culinary creativity. Her ability to create delectable and visually stunning pallets from seasonal ingredients naturally progressed to opening her own business, Simply Jam'n Boards in February of 2021.
Filling a niche market that had yet to be tapped in the Hickory food scene, her journey began as a food truck operator but quickly evolved to her current storefront that opened in May of 2022 at Hollar Mill. Jessica was looking for a place to connect her charcuterie food truck to a central location to make it easier for customers to pick up their orders. Believing that Simply Jam'n offers something unique and different not only to Hollar Mill but to Hickory also spurred the move to a brick-and-mortar storefront. 
Simply Jam'n Boards offers custom charcuterie boards, boxes, and grazing tables for corporate and special events in the Hickory, North Carolina area. Centered around various meats, cheeses, fruits, and seasonal treats, these delicious, creative, and personalized masterpieces can take anywhere from 10 minutes to several hours to construct depending on the amount of prep and the size of the board or table. Each creation offers Jessica an opportunity to showcase her culinary talents in a visually inspiring arrangement. They are truly edible works of art.
The storefront is open Monday-Tuesday by appointment or Wednesday-Saturday 11 am - 5 pm offering fresh grab 'n go charcuterie boxes "Adult Lunchables!"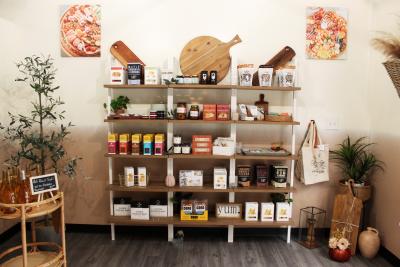 They also have a small retail section with specialty foods & gifts including artisan wood-crafted boards made by local Hickory artisans. In addition to event catering and grab-and-go charcuterie boxes, Jessica also offers monthly workshops where groups can learn cheesy artistry skills for their own homemade boards. With freshness and no food waste being of great importance to Jessica, she often distributes un-purchased boards to patrons who are enjoying the many amenities at Hollar Mill.
Simply Jam'n Boards specializes in creating one-of-a-kind grazing and charcuterie experiences with fresh, quality ingredients crafted with passion and love. Whether you're looking for a quick snack from the grab 'n go fridge at the shop or if you're needing help with making your event, wedding, or gathering unforgettable and unique, Simply Jam'n Boards is here to assist.
Jessica has been featured in local publications as well as Our State Magazine for her charcuterie work. "Simply Jam'n Boards was born out of my passion for food & wanting to utilize my creativity in a new way.  Gathering friends and family around food has always been a way for me to express my love to them," says Jessica Anaya. "I take pride in providing a unique quality product to my friends, family, and community."
Stop by Simply Jam'n Boards at 883 Highland Ave SE, Hickory, NC (Hollar Mill Building) or order online at simplyjamnboards.com for an amazingly tasty treat that is sure to please!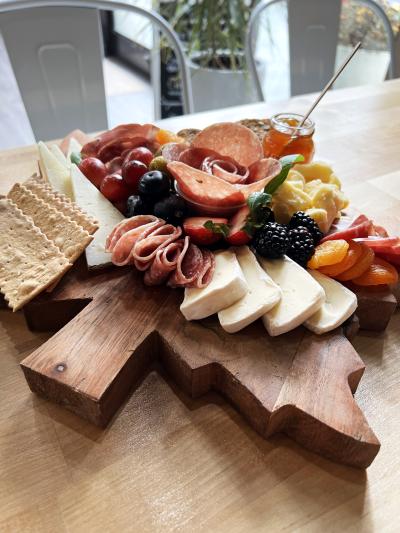 TIPS & TRICKS TO CREATING THE PERFECT CHEESEBOARD: 
CHEESE: To start off pick a few favorite kinds of cheese. Cut or slice in different ways to style them on the board. 
ANCHORS: Place your anchors on the board. Anchors are dips, jams, or anything that stays put on the board. 
CHARCUTERIE: Charcuterie or cured meats are next to the head of the board. Create salami roses, ribbons, or zippers! Enhance the board by including prosciutto, capocollo, pepperoni or chorizo. 
FRUITS: Next...add those fresh seasonal fruits to the board. Spread the color all around. 
TO CARB OR NOT TO CARB: Add different crackers to enhance cheese pairings. 
FILL IN THE HOLES: Last...But not least, you want to add in the nuts and dried fruits to fill in any holes. Complete the board with some fresh herbs to add aromatics & color to the board.
*Tips & Tricks provided by Simply Jam'n Boards!