How about you hop on our level! Olde Hickory Brewery is doing things a little differently. When you typically think about brewers you don't think about it being a female, but Sarah Todd is running the show as Head Brewer at OHB.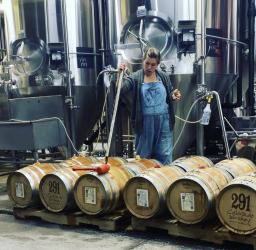 Here's a little more about Sarah's story: 
Sarah went to college for fermentation and farm business at Cornell University and was fortunate to find Olde Hickory Brewery during her senior internship! She has been brewing a little over three years at the OHB and loves the all-hands-on-deck mentality. Sarah, "We all do a bit of everything, and there is always something to learn." She also enjoys gardening, hiking, and traveling with her family! 
Why did you decide to start brewing/venture into craft beer?
Sarah: I have always been captivated by fermentation and was fortunate to work at a vineyard in high school. While I was in college brewing and distillation classes were just becoming available. I took the classes and fell in love! I worked at the university's teaching winery and brewery, learning a lot about the logistics and the day-to-day tasks of the beverage industry. I started homebrewing on my own whenever I got the chance. 
Tell me a bit about the history of the brewery: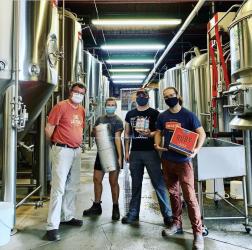 S: Steven Lyerly and Jason Yates started Olde Hickory Brewery in 1994 on a converted dairy system. After outgrowing that system and building (now our Amos Howard Pub) we moved to a historical building in downtown Hickory. We have slowly grown, adding fermenters as we go, and now brew in a 25 barrel mash tun. 
How many employees do you have?
S: We are an efficient team of four at the brewery, plus our quality control specialist, and our sales team!
What is your thought process when coming up with new flavors and styles? How about the names of your beers?
S: We are fortunate to have a small batch brewing system and local restaurants that can serve those test beers first hand. This allows us to test our newest ideas, and get a quick idea of what's liked by consumers. We often brew what sounds good, seasonal beers, and high-demand brews. 
Our beers often reflect the pride and beauty we find in the region, like our Table Rock Pale Ale and Piedmont Pilsner among others. We also have a line inspired by space themes like our Event Horizon and Photonsphere imperial stouts. We also have a good time finding inspiration from beer ingredients and the barrels that host many of our beers. 
Tell me about the first beer you made- if you remember.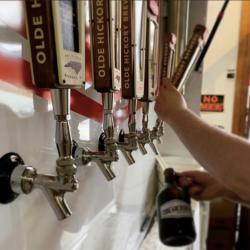 S: The first real beer I brewed on my own was a paw paw beer. It was made from a fruit I had found in the woods and excess grain from one of my brew classes. It was nearly undrinkable but taught me a lot. Start simple! 
Is working at a brewery different than what you thought it would be? How so?
S: I knew from working at the teaching winery and brewery in college that it took a lot of cleaning and scrubbing. Behind the shiny tanks and romantic barrels, there was always someone cleaning — that much has remained true! Quality starts with cleanliness and organization. 
What is unique about YOUR beer?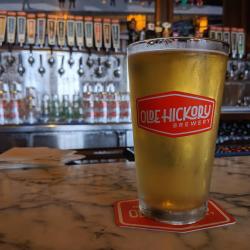 S: As one of the oldest breweries in North Carolina, our beer offers a glimpse of what experience in the industry tastes like. Our carefully calculated growth has allowed us to focus on quality and balance, and not overshoot our expansion. Thus, we have slowly grown our system, adding tanks, a centrifuge, and have a pasteurizer being added now. The fact that we centrifuge our beers, hot side and cold side, is very unique, particularly for our size. We also have an in-house microbiology lab that helps us offer some of the cleanest beers around, and ensuring consistent beverages. 
How is your beer connected to the Catawba Valley Region?
S: Many of our beers have names that are rooted in the essence of the region — we proudly pour Piedmont Pilsner, Hickory Stick Stout, Wilson Creek ESB, Brown Mountain Light, and Table Rock Pale Ale. These beers pay homage to the landscape, and our recipes aim to reflect the beautiful nature of Catawba Valley. 
What steps do you take to give back to the community and/or the environment?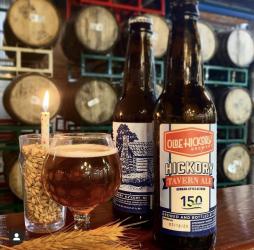 S: We have served up beer for Pints for Prostates, March of Dimes, the Hickory Community Theatre, and local historical groups like Hart Square. We partake in the North Carolina Pink Boots Society and have hosted educational brew days with Appalachian State University. To celebrate Hickory's 150th birthday, we brewed the celebratory Hickory Tavern Ale. Before the age of covid, we were active in the community music nights, and are a proud staple of Hickory's downtown entertainment! 
As for our environmental efforts, we use a lot of recyclable and compostable packaging. Our used grain goes to a local farmer to feed cattle. We value efficient water use and have hot liquor tans that are filled from our heat exchanger, saving water. 
Anything else you would like to share? 
S: I am grateful to be a part of North Carolina's beer industry. There is an amazing community and so many helpful people to learn from. I look forward to brewing up many more beers!  
For more information on Olde Hickory Brewery and the Catawba Valley Ale Trail click here.