The epitome of southern hospitality is one of our local hotel team members, Mrs. Carol from the Hilton Garden Inn. Always referred to as the Hospitality Diva, Mrs. Carol's sole focus is making guests feel right at home, making your stay a special occasion. When you meet Mrs. Carol, you can feel the love that she has for other people, which she says "is a part of the job." While being over the breakfast service at the Hilton Garden Inn, Mrs. Carol makes her job title mean considerably more! As the Hospitality Diva, yes, her name tag does say that, she brings such warmth to the "Garden." You walk in a stranger and leave as family. Mrs. Carol goes above and beyond with each guest she meets to ensure your hotel experience is excellent. 
A little background about Mrs. Carol, she starts her day early, 3 am to be exact! She gets to work promptly at 4:30 am to begin organizing and setting up breakfast stations for the guests. She makes sure the coffee is hot and the fruit is set out just right for the 6 am cafe opening! Every guest that makes their way down to the cafe will experience kindness, a good hearty breakfast, a friendly smile, and Mrs. Carol's "good morning." With her loving and mothery spirit, she makes guests feel like family. Her regard for others has been unmatched, and she truly cares about every guest walking through the doors. Many returning guests will ask if the "breakfast lady" will be there the next morning! Mrs. Carol has truly made a difference in our community and we are thankful for her service to the hospitality industry over the last 16 years and the many more to come!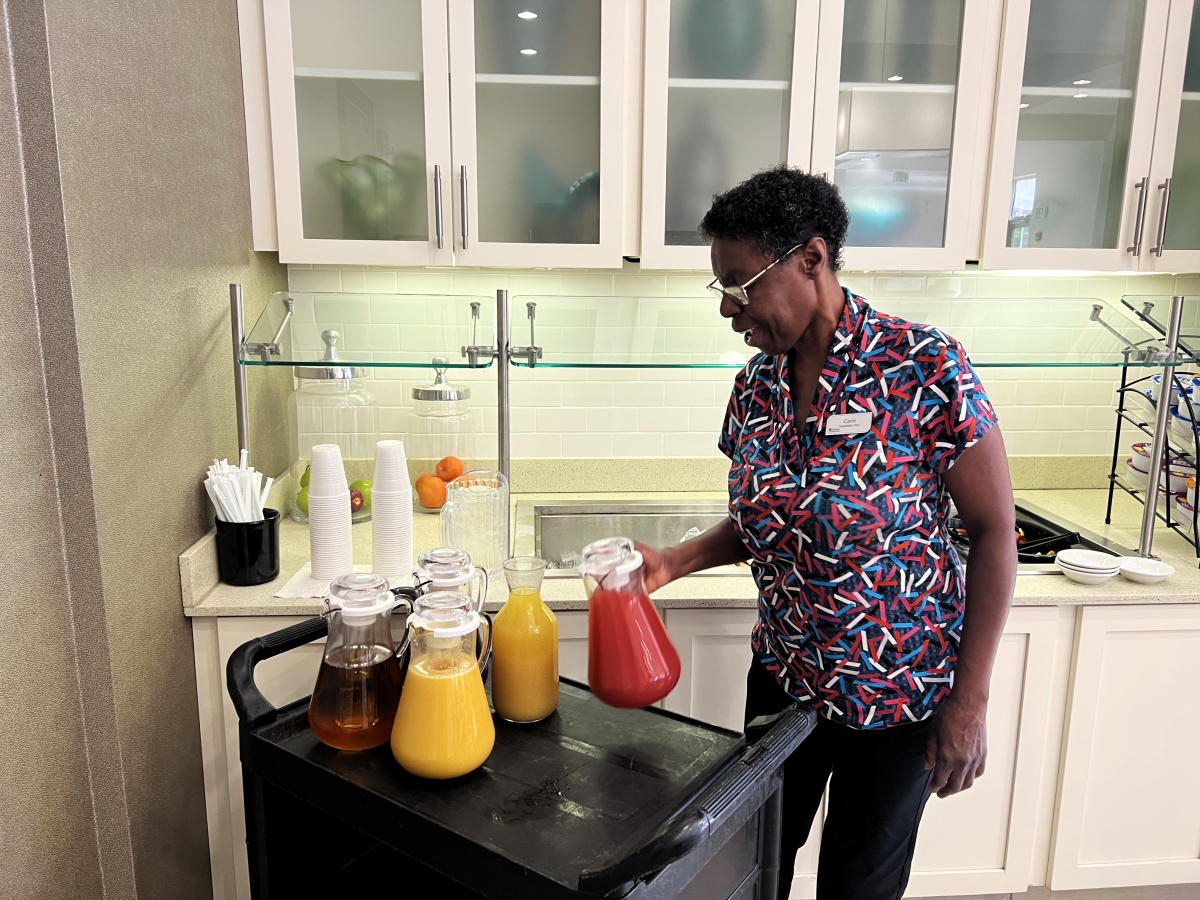 Rapid Fire Questions: 
Why did you choose hospitality in the industry? I wanted to work with people, I knew I could provide them with good customer service and I have always enjoyed making people smile and wishing them a great day.
What do you like most about being in the hospitality industry? I love that being in hospitality has given me an opportunity to express myself, and in return give guests and visitors a happy smile and a good morning chat, to send them off for a good day.
What are some of your favorite memories in the industry so far? I love my "bossman" and have enjoyed many years of friendship and laughs with GM Joe Aldridge and working many years with coworker Ron Buchanan, and many others who have shared time with me during my hospitality journey!
What would you say to those thinking about entering into the hospitality industry? When considering hospitality you need to be "hard-working, be on-time for work, and establish a great understanding of your job. Lastly, give the customers all you have each and every day!"
Comments From Her Supervisor: 
Holden Aldridge | Assistant General Manager of the Hilton Garden Inn
What are some of Mrs. Carol's strengths in her role? As Carol's supervisor and friend, she is one of a kind. A gem to have as a coworker, and someone who makes the room "light up" so to speak. She treats every guest like family, from remembering their names to giving them nicknames, she just enjoys being present with them. There is not a day that you have to worry when Mrs. Carol is working, because you know everyone will be taken care of, and very happy with the service being provided. Mrs. Carol will do anything for the team!! Almost always the first one in the building for the morning shift and always the last to leave. If there is a coworker dealing with issues, she has a sentimental card and fruit basket ready to go for them, and as you said above she will cook and bring guests different things on a weekly occasion. I can assure you one thing when staying at our property, you will leave a friend with Mrs. Carol. 
What does Mrs. Carol bring to the team? Consistency, spirit, friendship, teamwork, work ethic, compassion & love. 
Community Impact Reference:
Shawn Chaffee | Defensive Line Coach/ Defensive Coordinator at Lenoir Rhyne University
What does Mrs. Carol mean to you? "I really do not know where to begin with Mrs. Carol. She is one of the most genuinely nice and caring people I have ever met. She treats everyone like family and is sure to put a smile on your face. I first met Mrs. Carol when our new coaching staff came to Hickory in January of 2021. We use the Hilton Garden Inn for our official visits on the weekends. Each family would eat breakfast at the hotel, and Mrs. Carol quickly became one of our best recruiters.  At breakfast, her hospitality is unmatched. She is amazing with the recruits because she does a great job of taking care of them and getting them to laugh. She is also able to answer any question that the parents could think to ask. Mrs. Carol loves the Hilton Garden Inn and the people that stay there. If you have stayed at the Hilton in Hickory more than once then Mrs. Carol is most certain to remember you. Outside of her work at the Hilton, she supports the LR community every chance she gets. She goes to numerous sporting events every year and has not missed a home football game in quite some time. She shows up early to tailgate with football parents who have become close with her because of their time staying at the Hilton. Numerous parents have told me that they stay at the Hilton time and time again because of Mrs. Carol. She means so much to the Hilton and LR communities. She treats everyone with respect and love, and I do not think I have ever seen her without a smile on her face. If there were more people like Mrs. Carol, the world would be a much better place."