We have searched far and wide through the candy cane forest for all the Holiday Events in the Hickory Metro! We have everything from arts and crafts, holiday performances, to where to find Santa! Hey! I know him! Just had to say it, if you don't know the reference you are missing out. Buddy the Elf is the best! Anyway, Happy Holidays and I hope you find something special this Holiday Season in Hickory, NC!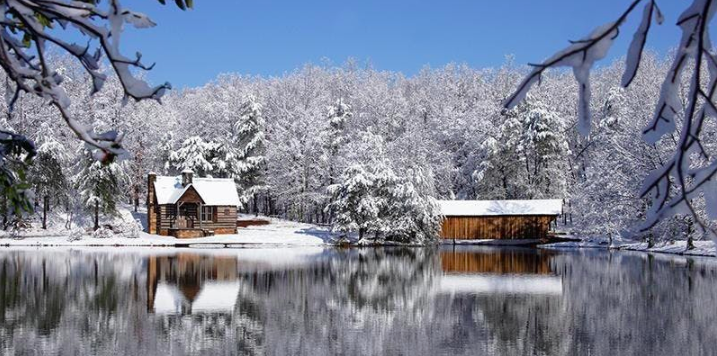 Hart Square in the Village is December 4-5, 5-9 pm: Experience the magic of Christmas with a walk through the nation's largest log cabin village by the light of lantern. Guests will be invited inside to interact with historic docents and observe artists demonstrating popular yuletide traditions of Early America. Enjoy a warm meal amongst the chill of the coming winter. Eight of their cabins will be open for the event including: Yount Tavern, Blacksmith's Shop, Chapel of Peace, Rhode's Cabin, Norwood Cabin, Kahill-Dellinger Cabin, Detter Cabin, and Wright Cabin. The Education Center will be open and fully decorated! Tickets are $50 a person, Children 12 and under are free!
The Nutcracker featuring Louis Nunnery School of Ballet is December 3 & 5 at the Newton Performing Arts Center. The first performance is Dec. 3rd, 2021 at 7:00 PM (doors @ 6 PM) and the second is Dec. 5th, 2021 at 2:00 PM (doors @ 1 PM). All tickets are general admission. Early Tickets: Adults $16.00, Age 16 and under $14.00, and (Age 2 and under not requiring a seat are free). Tickets will also be available the day of the performance at the door: Adults $18 & Age 16 and under $16.00.
A Down Home Christmas is December 4 starting at 7:30 PM at the J.E Broyhill Civic Center. Join the Western Piedmont Symphony in this new holiday tradition. Bring the whole family to hear all of your holiday favorites and spread some Christmas cheer! Tickets are $25-45 (In-Person), $10 (Virtual)
Christmas Parade and Tree Lighting for The City of Claremont is Saturday, December 4th at 3:00 PM. The parade will line up at the intersection of Centennial Boulevard and East Main Street (Hwy 70), begin at Claremont Elementary School and travel westbound ending at North Oxford Street.  Join in for a parade featuring local officials and groups, bands, tractors, floats, dancers, fun characters, interesting and unique vehicles, and of course SANTA!  After the parade, meet at City Hall for the City's Christmas Tree Lighting with CVCC's Choir and Jazz Band performing Christmas Carols and our new Holiday Pop-up Market where you can get an early start on Christmas Shopping and enjoy some food and hot chocolate or coffee while you're there! Santa will also be meeting us for pictures with all the good little boys and girls! In addition, Santa will have a mailbox with a direct link to the North Pole that you can drop off your letter to and get one mailed back to you! As always, the City of Claremont's events are FREE to attend and enjoy. Don't miss out on an exciting afternoon on Main Street of Claremont and come show our community some love!
Pictures with Santa is December 4 and the time is TBD, located at Stanford Park Baseball Field. No registration is required.
Conover Christmas Caravan is December 7, 9, 14, and 16 from 5:30 - 6:30 pm in Conover, NC. The City of Conover Christmas Caravan will be making it's way through your neighborhood this holiday season. Santa will be riding on a big red fire engine escorted by his little helpers. You can follow Santa's location LIVE during the caravan by visiting conovernc.gov/christmascaravan. If you have any questions, please contact Santa's Little Helpers at Fire Station 1 at (828) 464-1295 or email christmascaravan@conovernc.gov to email Santa's staff of Elves.
Holiday Jazz Concert is December 7 at 6 p.m. located at Patrick Beaver Memorial Library. 
1940s Christmas Radio Hour is Friday, December 10 at 7 p.m. & Saturday, December 11 at 2 p.m. & 7 p.m. Location is the Drendel Auditorium - SALT Block. www.HickoryMusicFactory.com. 
Hickory Choral Society Christmas Concert will have four showings on December 10, 11, and 12 at Corinth Reformed Church. Dates & Times: Dec. 10, 7:30pm, Dec. 11, 3:00pm & 7:00pm, Dec. 12, 3:00pm. To reserve your seat visit the Hickory Choral Society website! 
The Nutcracker - Hickory Ballet & Preforming Arts is December 10 (7 pm), Dec. 11 (3 pm & 7 pm), and Dec. 12 (3 pm) at the Green Room Community Theatre. Normal Box Office hours are Wednesdays-Fridays from 10:00 am to 5:00 pm. Ticket prices are $18 for Adults, $16 for Seniors (60+), $14 for Students (13+) and Students, and $8 for children age 12 and under. All ticket prices include NC sales tax.*SPECIAL OFFER- VIP ticket option, Friday, December 10th only! This $50 ticket includes performance, post-show live Q and A with the New York City Ballet guest artists, and a special Nutcracker gift basket!
Rudolph the Red Nosed Reindeer the Musical - Newton Performing Arts Center is December 10, 11, 17, 18 at 7:00 pm & December 12 & 19 at 3:00 pm. Tickets: Adults- $18, Students 13+ - $14, Children under 12 - $10. Everyone must have a ticket, ages 0 to 150. Come see all of your favorite characters from Rudolph the Red-Nosed Reindeer: The Musical. It's an adventure that teaches us that what makes you different can be what makes you special. Don't miss this wonderful holiday tradition that speaks to the misfit in all of us.
Downtown Hickory Candy Cane Scavenger Hunt is December 11th at 11 am-3 pm. This event is free! Find all 20 locations to be entered into a drawing for $30 in Downtown Bucks!! Please bring your card back to the HDDA table on Union Square by 3pm to enter!
Downtown Hickory 2nd Annual Cookie Crawl is December 11th at 11 am-3 pm. Tickets are on sale now through December 11th, and if the event is not sold out, there may be a few tickets for purchase the day of the event. Bring your ticket receipt to the HDDA tent on Union Square, December 11th, from 11am-3pm, to receive your Cookie Crawl Passport! Then follow the cookie crumbs to collect a different holiday inspired cookie from each participating business! If you have any questions regarding this event, please email info@downtownhickory.com and put Cookie Crawl in your subject line. Thank you and see you downtown!
Art for All is Tuesday, December 14 from 6 – 8 p.m. at Highland Recreation Center. No registration is required. 
Holiday Movie on the Lawn is Thursday, December 16 at 6 p.m. on the SALT Block Lawn. 
International Christmas Concert is Saturday, December 18 at 6 p.m. located at Drendel Auditorium - SALT Block. www.HickoryInternationalCouncil.com
HDDA Christmas Story Hour is December 23, from 11 a.m. – 1 p.m on Union Square – CommScope Stage. 
Events Now Through...
Seniors Game on Daze – Dec. 15, 10 a.m. to 1 p.m. On the third Wednesday of each month, seniors are invited to enjoy the fun of playing the games they love and learn how to play new games at the Newton Recreation Center, 23 South Brady Ave. Snacks and games are provided. Participants are also welcome to bring their own favorite games to share. Space is limited. Reservations are required by calling 828-695-4317.

Seniors Jingle Bell Express – Dec. 16, 11:30 a.m. to 12:30 p.m. and 1 p.m. to 1:45 p.m. This drive-through holiday event is designed to provide seniors with  a sleigh full of Christmas cheer. Santa and his elves will hand out a tasty lunch and special treat bags in the lower parking lot of the Newton Recreation Center while participants remain comfortably seated in their vehicles (parking lot entrance is to the rear of the Recreation Center on East A Street). Space is limited. Reservations are required by calling 828-695-4317.

Gingerbread Man Contest – Through Dec. 17 Visit www.newtonnc.gov/parksandrec or stop by the Newton Recreation Center, 23 South Brady Ave., to obtain your gingerbread man template and see where your creativity takes you. The contest will be divided into the following categories: 5-12 years old, 13-18 years old, 19-59 years old, 60 years old and older, and groups (families, organizations, schools, clubs, etc.). Completed gingerbread men must be accompanied by  a contest entry form and returned to the Recreation Center by 5 p.m. Dec. 17 for consideration in the contest. Please note that gingerbread men will not be returned to participants.

Ugly Sweater Contest – Through Dec. 22 Who doesn't love an ugly Christmas sweater? Join the fun by sending a picture of you wearing your ugliest holiday sweater to fanofnewtonpar@outlook.com by 5 p.m. Dec. 22. Participants will have the chance to win great prizes from local businesses and eateries.

Virtual Christmas Pajama Party – Dec. 24 You're invited to join Newton Parks and Recreation's pajama party from the comfort of your own home. Celebrate the season with family and friends in your most festive PJs and perhaps play a few rounds of your favorite board games, sing karaoke, or have a white elephant gift exchange. There's no need to register; simply submit your favorite pajama party photos to fanofnewtonpar@outlook.com by 5 p.m. Dec. 24 for the chance to win great prizes.

Lotería at Home – Through Dec. 25 Lotería at Home is a great way to have fun using common items you can find in or around your home. Just like bingo, you can play to fill all the boxes or you can play a quick game to see who can finish a row first. Play indoors or outdoors while having safe fun. Print your lotería cards from home by visiting www.newtonnc.gov/parksandrec or claim them at the Newton Recreation Center, 23 South Brady Ave.

12 Days of Christmas Kid Crafts – Through Dec. 31 Christmas craft ideas with step-by-step instructions are available at www.newtonnc.gov/parksandrec or for pick-up at the Newton Recreation Center, 23 South Brady Ave. Transform items you can likely find around your home—like pinecones, aluminum foil, and socks—into dazzling Christmas creations.
For more information on these events, click the link which will take you directly to our Event Calendar!