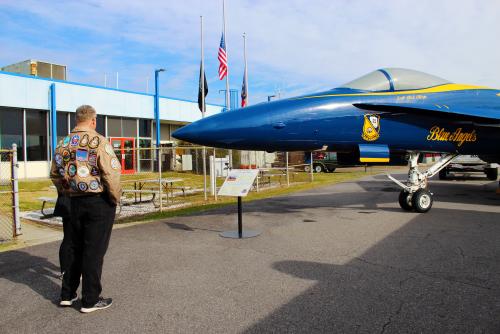 Today we are taking a trip over to another hidden gem in our area - The Hickory Aviation Museum. The Hickory Aviation Museum is located at the Hickory Regional Airport and houses numerous rotating exhibits. 
The interior of the Hickory Aviation Museum has artifacts and memorabilia ranging from early aviation, WWII - to the present day.  Including a display about NC Natives Bill and George Preddy provided by the Preddy Foundation.  Models are on display that shows how aircraft design changed from the Wright Flyer to The F/A-18 Hornet.  The Wall of Honor is located inside of the museum, honoring members of our organization and local veterans that have passed. Take a close look at ejection seats and flight suits. Repeat visitors often experience new exhibits as they tend to rotate due to the current smaller space of the museum. Paying homage to local heroes, there are several displays that showcase local military heroes from the Hickory Metro area. 
Displays include photos, uniforms, helmets, and other pieces that were flown in WWII, the Korean War, Vietnam, Desert Storm, and Kuwait. 
Aircraft also includes an F-14 Tom Cat, and other memorabilia made famous by the movie "Top Gun." Get up close and personal with a similar aircraft that was made famous by Goose & Maverick. The one located on the flight deck that was acquired by the Hickory Aviation Museum was the last one to be flown by the Navy before the model was retired. In addition, the Museum acquired the cockpit of another F-14 fighter jet, that was rescued from the scrapyard, allowing visitors to hop in the seat of the fully equipped aircraft to experience the "Top Gun" feeling. 
The Aviation Museum is run and operated by volunteers, some of which are military veterans and those looking to educate visitors on the magnificent aircraft that have been collected and assembled at the museum. One aircraft is open for tours and showcases a glimpse of life on a "submarine chaser." Check out the 3-D interactive tour of the P-3C Orion and better yet go see it for yourself.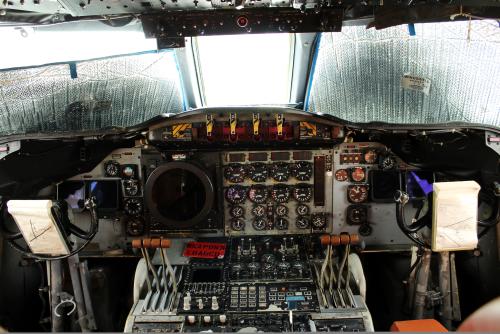 In the future, the Museum is looking to expand and grow their experience with a larger site to house all of their aircraft indoors along with all of their artifacts. They currently have drawings of what the expanded site will entail but they are looking for sponsors and donors to assist with construction. The museum is solely operated by donations and sponsorships. Those who visit are encouraged to give a donation to keep the museum open, running, and able to acquire new exhibits. Donations are encouraged but admission is FREE to visitors. If you are interested in donating to the Hickory Aviation Museum or donating to the growth of this hidden gem please reach out to Bill Baker at info@hickoryaviationmuseum. 
Hours of operation - 
Monday:  Closed
Tuesday-Friday: 10am-3pm
Saturday: 10am-4pm
Sunday: 1pm-4pm