One of Catawba County's hidden gems is the beautiful Hart Square Village, with over 100+ 1800's log cabins. When visiting the world's largest collection of log cabins, you are sure to be amazed at the scale of history all in one place. Every time I visit, I always find something new that I haven't seen before. The main goal of Hart Square is to educate those about old traditions and way of life. Are you ready to step back in time to learn a thing our two? 
Hart Square History: 
Located in Vale, NC just south of Hickory, sits the nation's largest collection of historic log structures. The village was started by Dr. Robert W. Hart III. Dr. Hart and his wife, Becky, were married in 1961 after his service to our country as a Second Lieutenant Marine fighter pilot.
Shortly after his graduation, the Lord led them to move from Ridge Spring, SC to Hickory, NC, where Dr. Bob started as a primary care physician at Frye and Catawba hospitals and later began Hart Family and Hart Industrial Practices. In August of 1967, Dr. Bob purchased the 200-acre property (that is now Hart Square) as a nature preserve. For several years, the land remained only a woodland reserve to deer, geese, and a few wood ducks.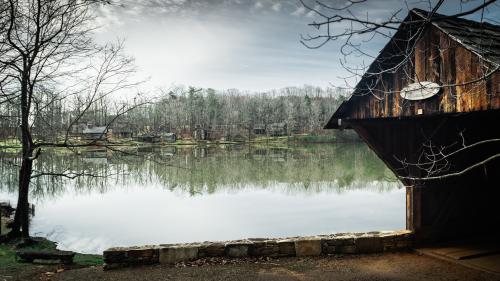 In 1973, a patient told Bob about an old cabin on his property that needed saving. He suggested it would really look nice on his upper pond. Bob, who was never quick to turn down an adventure, chose to move the cabin, log by log, to that pond where it still stands today.
As you may have guessed, that is just the beginning of the story. Bob had a knack for taking things from good to great, and a cabin is good, but a cabin with a barn is even better. Time marched on, and so did Bob. He marched his way to 103 19th century log structures one by one with the help of several volunteers.
Among these 103 testaments of American history stand thirty homes, two churches, and several trade shops. Each cabin has been furnished by Becky Hart with artifacts from the 1800s that she and Bob collected over the past 60 years at flea markets and estate sales all over the Eastern United States.
Each cabin appears as if a pioneer just got up and walked out moments prior. All of the cabins were rescued from the Piedmont and Western regions of North Carolina.
In 2005 the Hart Square Foundation was founded to create an endowment to preserve Hart Square Village. In 2017, Dr. Bob and Becky Hart officially donated the village, collection, and property to Hart Square Foundation for the intended purpose of its historic preservation.
In 2017, the Hart Square Foundation and the Sigmon family of Newton, NC, alongside Dr. Hart, broke ground for the Sigmon Family Education Center. This building is now complete. It provides the modern infrastructure needed to share the village with you and your family on a more regular basis.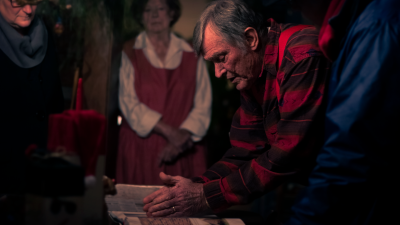 Dr. Bob passed away peacefully in a cabin by the lake on March 15, 2020. But his vision to share pioneer history with the next generation did not fade with him. At Hart Square Foundation, we continue to work every day to share the village and his memory. The village is shared through annual events, membership, craft classes, and field trip programming. We hope you visit Hart Square Village soon.
Upcoming Events: 
Sunflower Festival: September 11th 10 a.m. - 3 p.m. Enjoy a five-acre sunflower field in the rolling hills of Vale at America's largest log cabin collection. Conveniently located 1 hour from Charlotte. You can take family photos, pick your own bouquet of flowers, or enjoy a peaceful historic walk through the 1800's village. **Your ticket will be fully refunded if the sunflowers do not come up due to drought or inclement weather. Tickets are $15 a person. Children 12 and under are free. 

Pumpkin Patch: October 2nd 10 a.m. - 2:00 p.m. October 9th 10 a.m. - 2:00 p.m. Hart Square is happy to announce our first annual pumpkin patch! Pick from a variety of childrens pumpkins, jack-o-lanterns, and more. There will be historic demonstrations and autumn activities. Learn about the many uses of pumpkins in the pioneer era from roasting seeds, to planting, to baking pumpkin pie. Tickets are $15 a person Children 12 and under are free **Your ticket will be fully refunded if the pumpkins do not come up due to drought or inclement weather.

37th Annual Festival: October 23rd 10 a.m. - 5 p.m. Since 1986, as the first touches of autumn fleck Hog Hill on the fourth Saturday in October, Hart Square bustles with over three hundred knowledgeable artisans and docents demonstrating and sharing the craftsmanship and subsistence of Carolina's pioneers. To enter the village on festival day is to enter the early 1800s. Here, visitors will witness everything from flax making, cotton baling, and tinsmithing to apple butter making and the sweet sounds of old time music. Demonstrators are dressed in period clothing and truly bring the village to life. North Carolina artist Bob Timberlake says, "I've visited Colonial Williamsburg, almost grew up in Old Salem, and I've seen other restored places all over North America, and nothing compares with Hart Square Village just south of Hickory." We boast the most talented and authentic demonstrators in the country, and know you will agree with us when you come visit. Tickets are $45 a person Children 12 and under are free

Christmas in the Village: December 4th & 5th 5 p.m. - 9 p.m. Come experience the magic of Christmas! Walk through the nation's largest log cabin village by the light of lantern. Guests will be invited inside to interact with historic docents and observe artists demonstrating popular yuletide traditions of Early America. Enjoy a warm meal amongst the chill of the coming winter. Eight of our cabins will be open for this event including: Yount Tavern, Blacksmith's Shop, Chapel of Peace, Rhode's Cabin, Norwood Cabin, Kahill-Dellinger Cabin, Detter Cabin, and Wright Cabin. The Education Center will be open and fully decorated! Tickets are $50 a person Children 12 and under are free

Easter: April 16, 2022 10 a.m. -  3 p.m. Egg hunts will be divided into two age groups: preschool and elementary. This way all ages can enjoy finding eggs at their own pace! Along with the egg hunt, there will be other activities to do around the village such as egg dying, storytelling, and nest building with some of our artists. Please bring your own basket for the egg hunt. Tickets are $15 a person Children 5 and under are free
Membership Opportunities:
Membership at Hart Square is about partnering to preserve our nation's history. Your membership funds provide the opportunity to share this beautiful place with our community, North Carolina k-12 students, and beyond.
Membership hours are Monday to Friday 9 a.m. - 5 p.m. The following benefits are available to members for a full calendar year from your sign-up date.
16 and under guests are free when accompanied by a member

Trail Access: 200 acre property with beautiful lakes and picnic locations

Education Center: A new, modern 16,000 square foot building

$20 Guest passes for non-members can be purchased by membership holders

Pet Access - leashed and poop bagged

Monthly members-only e-newsletter about events, updates, and more
While visiting the village, you will have access to trails, picnic areas, and the Education Center. Wifi is available in the Education Center.
For more information on all things Hart Square and to join their membership, click here!