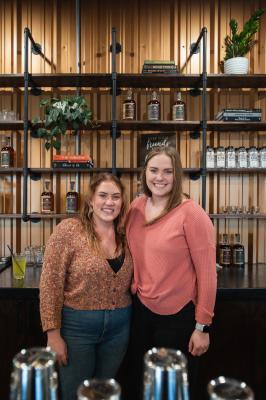 In the city of Newton, NC in a warehouse, a little unsuspecting from the road, you'll find the crafted works of sisters Baillie Rector and Andi Foss.  Not only are they sisters but they are business partners and a dynamic duo of creativity that brings Newton to life with flavor and a pizzazz for the "Mad Men" mid-century modern style that makes Warehouse Distillery and their smooth cocktails. Baillie and Andi come from a family of entrepreneurs, but it was around their kitchen island that the Setzer family all agreed their next great adventure would be the art of distilling. Through hard work, learning the distilling industry and trying different recipes they finally found the perfect recipe for success.
With a family that works and drinks well together you are sure to find a place that feels like home and that is certainly true of the family owned and operated Warehouse Distillery. They have a beautifully crafted arsenal of award-winning Rye Whiskey, Maple Whiskey and Bourbon and a carefully curated beverage list to showcase their hard work oh so nicely. Baillie, having previously worked in the Hospitality Industry as a mixologist in other cities brought that personal touch to the cocktail menu. A well-known favorite is the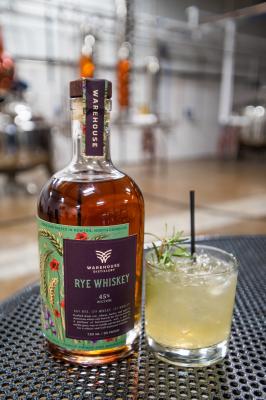 Rosemary Fizz. Made with fresh ingredients daily, this crafted concoction is a delight to the palate with the perfect blend of Rye whiskey, rosemary simple syrup, lemon and ginger beer.  If you're planning a visit to the Hickory region, a bucket list "must" is the Warehouse Cocktail lounge, located on-site at the distillery. This spot offers an eclectic atmosphere, that is pet friendly with hints of the mid-century modern flare, a drink list with something for everyone (including mock-tails,) and added touches like weekly food trucks, games, and live music make this a happening spot Wednesday's & Thursday's 4pm-9pm and Friday & Saturdays from 4pm – 10pm.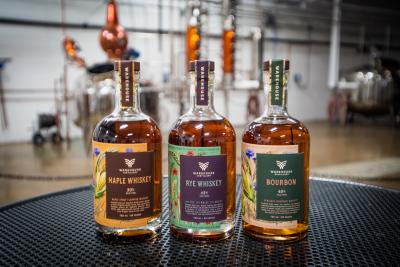 As their business continues to grow so will their list of spirits and they always keep their family mission and vision in mind- "to cultivate a passion for craft spirits and empower future generations of entrepreneurs, for the love of booze." A visit to the Warehouse and you will see that passion come to life before your eyes. They treat you like family from the moment you walk through the door and the offer unique and creative cocktail experiences that truly come from the heart of the creators. 
For more information on Warehouse Distillery check out their website and social handles: https://www.warehousedistillery.com/about.html#/ Instagram: @warehousedistillery