Thinking about taki
ng the day to pamper yourself? A girls day or a couples retreat? Rock Barn Country Club & Spa is the place to go! I don't usually get this personal but for this experience, I felt I had to share my experience and services. What better way to share than a first-hand account.  
Rock Barn Country Club & Spa has been known to have a relaxing and state of the art spa as well as championship golf and other 5 star services and amenities for members and guests. Their reputation of being a premier spot for golf and more precedes them. 
If you haven't visited this glorious slice of heaven you should plan a trip asap - but let's dive in to my day at the spa!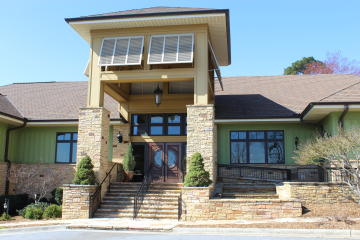 As you walk up the neatly laid stone stairs and enter through the sturdy wooden doors you are greeted by the quiet and soothing sounds of calming spa music. The vibe is already so relaxing it puts you into a state of relaxation almost immediately. You are welcomed by a friendly face (during COVID-19 I could still feel the welcoming smile through the mask the attendants were wearing.) 
After checking in and having my temperature taken, the attendant quietly walked me to the women's locker room where I was provided with a soft robe and spa "flops" - neat rubber flip flops to wear through my entire time at the spa.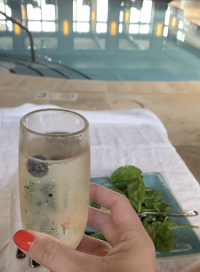 I arrived early and since my specific services weren't scheduled to start until 12:30pm so I had plenty of relaxation time in the pool area to indulge in the saltwater pool, mineral waterfalls and order from the lunch menu. The mixture of spa tunes (insider tip: you can hear the music under the water in the pool) and the rushing water of the five waterfalls makes for the most soothing experience. No cell phones dinging or ringing - just me, a great book and let's not forget the chilled glass of prosecco topped with a fresh seasonal berry. 
The lunch menu includes healthier choices with salads, wraps and fruit so I chose the delicious spinach salad with fresh strawberries, walnuts, goat cheese and balsamic dressing. Absolutely delicious and just what I needed at the spa. Surprisingly, I had the entire pool and waterfall area all to my self for around an hour. I  indulged in my second glass of prosecco while lounging in the waterfalls and before I knew it, it was 12:15pm. I gathered my belongings and quickly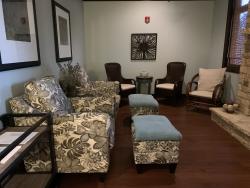 went to change and made it to the waiting lounge for my esthetician to arrive to collect me. When she arrived, we made our way past the "Relaxation Room" (pictured right) and by the massage rooms as we entered the newest part of the facilities renovation, the Medical Spa. 
Today's treatments included the Dermaplanning and the new HyrdaFacial that Rock Barn has begun offering. I had never had either one of those services so I was a little nervous but mostly excited as I had researched and read about the process and the post service experiences. The Dermaplanning and HydraFacial were so relaxing and made my face feel so fresh, clean and smooth. Angie, my esthetician was extremely knowledgeable and walked me through the process. The Dermaplanning is where they use a medical grade scalpel to remove the first layer of dead skin along with the "peach fuzz" (vellus hair) from your face and upper neck region. The HydraFacial is then used to remove the "gunk" from your pores and cleanse your face followed by hydrating with a moisturizer and serum. The results were amazing! Soft smooth skin and I felt like a new person. Here are a few photos of my services.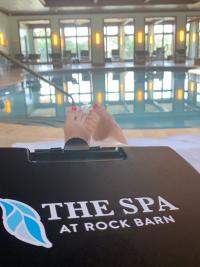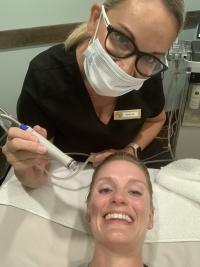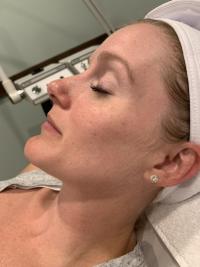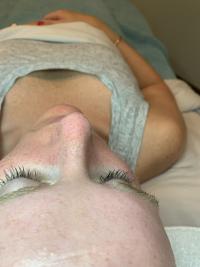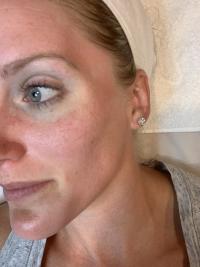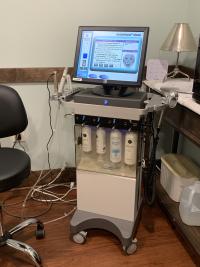 I highly recommend both the services I had done as well as their massages, pedicures and manicures! I look forward to trying their new Salt Cave soon also. The Spa has a way of making you feel like you have nothing on the schedule and you can just relax. Literally, time just slows and there is a sense of calming that takes place. So there you have it, my wonderful experience at the regions top and most relaxing spa. To book your next service or learn more about the offerings at Rock Barn Country Club & Spa click here.  
Spa not your thing? Take a look at Rock Barn's Golf amenities with stay and play options.
*All photos and experiences are from a personal experience and are not paid for or sponsored by Rock Barn Country Club & Spa.
*Please note that this visit was during North Carolina's extended phase 2 period and all regulations, sanitation suggestions and other regulations were followed including but not limited to: social distancing, face coverings, hand sanitizer stations, etc.