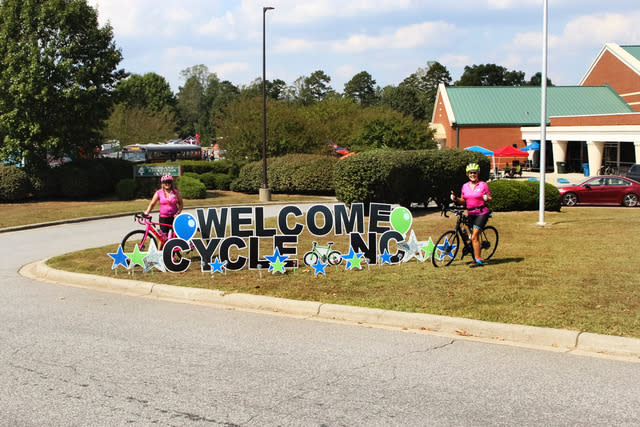 HICKORY – The 2019 Cycle NC "Mountains to Coast" stop in Hickory on September 29 was a big success.
The 21st annual "Mountains to Coast" Ride began in Blowing Rock on September 28 and ends at Atlantic Beach on October 5.  Hickory was the second stop on the ride this year.  About 1,000 cyclists from 37 states and several other countries rolled into Hickory between 11:30 a.m. – 4 p.m. on Sunday, September 29 and were welcomed by hundreds of people along the route into Hickory from Blowing Rock.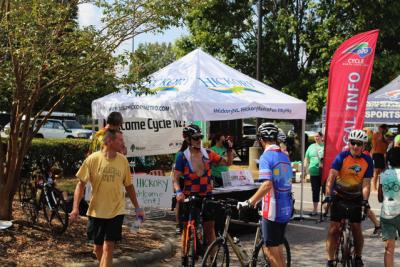 Cyclists finished at Stanford Park at the Highland Recreation Center and the fields turned into camping grounds and a food and entertainment venue as cyclists enjoyed food trucks, Olde Hickory Brewery, Shadow Line Vineyard wines, live music, ping pong, life size games like Connect Four and Checkers as well as took time out for photos in the Catawba Science Center's oversized "blue" chair.  Buses and vans also took cyclists to Downtown Hickory and to several restaurants near the Hickory Metro Convention Center. Around one-third of the cyclists stayed in local hotels while the other cyclists camped in tents at Stanford Park. 
"Visit Hickory Metro could not put on a successful event like this on our own and we are thankful for the support we received from tremendous sponsors and tourism partners," said Hickory Metro Convention Center and Visitors Bureau, Director of Sales and Marketing, Sarah Davis. 
Cycle NC event sponsors and partners include the City of Hickory (Recreation and Sports Tourism, Police, Fire, Public Services and Communications departments), Hickory Metro Sports Commission, Hickory Velo Club, Hickory Downtown Development Association, A Sign Co., Lowes Foods, liazzo's,  Publix, Hi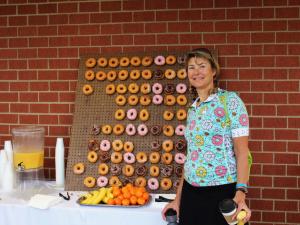 lton Garden Inn, Velofix, Carolina Pedal Works, Rock n Road Bicycles and Lightning Cycles.   In addition, the Hickory Museum of Art helped by putting blank yard signs out at the Auto Lawn event where people of all ages made welcome signs for the cyclists, which turned out to be a big success.
"The welcome signs coming into Hickory made by locals was something I have not seen in my eight years participating in Cycle NC," said a Cycle NC participant from Dallas, Texas.  "I could tell a few were made from children and that just made me smile as I approached the last hill. I appreciate the hospitality the community has shown us." 
Cycle NC participants and organizers as well as the dozens of volunteers enjoyed the food truck vendors which were Urban Flavor, Hickory Sandwich Shop, Souperbites, Pelicans and Tap Root Coffee.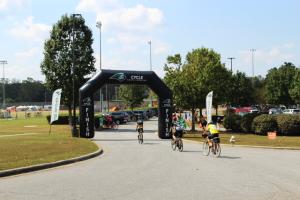 "The Hickory metro area and Hickory's locals received many praises as Cycle NC participants from all over the country and beyond were so excited and thankful for the amount of support shown to the ride. It truly was a huge success and we cannot wait to host the ride again in the future," said Davis.
To learn more about the Hickory Metro and attractions and events that bring visitors to Hickory go to www.visithickorymetro.com or follow us on social media.