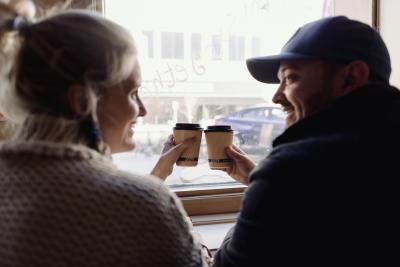 Hi there - Sarah here with the Visit Hickory Metro team. It has been a little while since I have dropped in to say hello and what better way than to share some of my favorites from Hickory's growing culinary scene. I have lived in the Hickory area almost my entire life and now more than ever this area is full of flavor and I am here to give you insight into some of the tastiest treats on those local one-of-a-kind menus! Here are some of the most requested menu items that I have noticed/tried and some that people may not know about. I am happy to share some of my favorites with you today - in no particular order because let's be honest these are all some of my favorites and I hope you enjoy!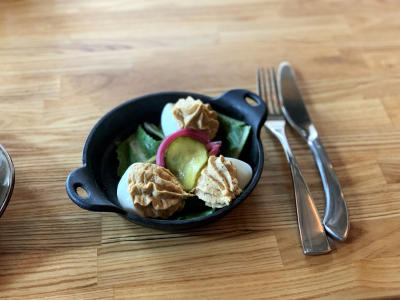 1. Cafe Rule and Wine Bar - They have an assortment of ever changing Deviled Eggs! Yes, you read that right. These are tasty and something different day to day! Who would have thought the traditional southern delicacy my grandmother and mother make for Holiday dinners would become one of my favorite items on this menu... but it has. Their take on the southern staple is refreshing with additions like my other southern favorite, pimento cheese and more blended into the yoke; these deviled goodies change daily with fresh ingredients. They break all of the rules and serve these treats with in-house pickled veggies (yum!) to make the perfect appetizer to start your dinner.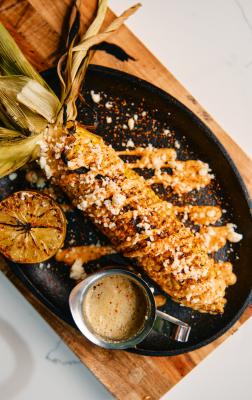 2. Mas Amor Cantina - If you are anything like my family, we crave something different and exciting almost every night so its not hard to see why we pop into Mas Amor Cantina often for their Fire Roasted Street Corn. This is a whole corn on the cob (staulk still attached), fire roasted served with melted butter and smothered in Cotija Cheese, Cilantro & a Chipotle Aioli. It is literally almost an entire meal in itself! I love to eat off of the nachos and then get this as my "meal." So yummy and the flavors of the char along with the creamy goodness of the cheese and aioli are the perfect blend. 
3. Charolais Steakhouse - Okay, If you don't know already; this is our longest running traditional steakhouse in the Hickory area. A local favorite - its a great spot for date night (I have friends and parents who went to the Charolais for their prom in the 80's - no lie) This place has a reputation for amazing food and wonderful service. While I could go on about the steaks; which are amazing and so is their salmon and salad bar... you have to try the Escargot. Before you say no way... hear me out! I have never been a fan of this idea and honestly always pictured eating snails and having a Pretty Woman moment where the snail goes flying across the room. But these are different. Trust me - these are served in the cutest escargot dish, smothered in garlic, white wine and butter served with a small crustini.  They are like 6 balls full of flavor and they were gone within 10 minutes of them arriving to the table.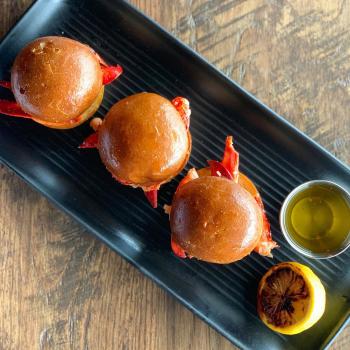 4. Standard Oyster - If you can't tell by now, I like great food. I'll continue this little menu dive at another one of our favorites; The Standard Oyster Co. with their Lobster Sliders. Again, another one of those items that I could make a meal out of! These are so simple but oh. so. good! The plate comes with three buttery brioche sliders topped with warm lobster and served with drawn butter & charred lemon. Holy smokes folks!!! These again are so simple but hit the foodie spot! Since we usually get an order of oysters also, this tends to be just enough food for me but we sometimes add an order of their lattice fries as well. Trust me!!! If you like lobster - you will love these.
5. Fourk - This local hidden gem has a delicious menu but I'll dive right in with one of my favorites - the Ahi & Avocado. Ahi tuna, avocado, ginger, green onions, pickled carrots, served on crispy wontons with spicy aioli and cilantro olive oil.... need I say more?? No, but I will. Run do not walk- these are simply delicious. The perfect mix of creamy & crunchy as well as a good balance of sweetness and pickled. Holy moly ya'll, if you haven't tried these you're missing out - you should have FOMO right now.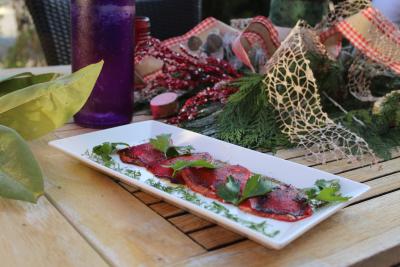 6. ​BOCA - A perfect date night for me and my other half is a night out on the patio near the wood burning fireplace at BOCA. We usually mix it up each time by picking a few small plates and splitting a larger option since the menu is packed full of authentic Mediterranean fare. But one that is always a staple for us are the Piquillos. These are also so simple - peppers stuffed with goat cheese - but let's be honest... I could never make them the same at home. The sweetness of the pepper and the tang of the goat cheese are a great addition to your appetizers for a nice evening under the strung lights and a cozy fire in the back ground. 
7. Duke's Restaurant & Wine Bar - Okay... this one is a hard one for me. I like several of their dinner options but I will warn you, they don't play around with their portions and they make sure you're not going home hungry. But let me start with saying this is truly also a hidden gem in the Hickory area! Reservations are encouraged so this is perfect for a date night or couples night out. We have celebrated a few birthdays with Duke's. The vibe is truly relaxing from the dim lighting and they usually have a pianist or other musician playing lightly in the back ground. Two of my favorites are the Charleston Crab Cakes or whatever the special is for the night; those specials change daily so be sure to ask! My other half would say he also likes the Grilled Pork Chop or the Angus Tenderloin Beef but he is also a fan of some of the specials they dream up in their live open kitchen.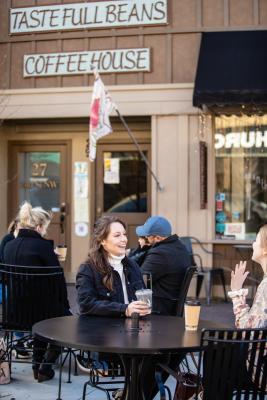 8. Tasteful Beans Coffeehouse - I often encourage friends and family when they are in town to visit this cute and cozy downtown spot. They are far more than just a coffee house though! Serving Breakfast and Lunch be sure to try the Green Goddess Bowl. Fresh organic lettuce topped with Hot spinach bites (this spanakopita) toasted pecans, crumbled feta, cucumber and red onion. Their Green Goddess Dressing is the literal icing on the salad. So good! They close at 6pm on most days so I usually try for lunch since we tend to eat dinner a little later. This is the perfect location for time alone with work or a good book, meeting up with friends or colleagues and they literally have something for everyone on the menu. 
Again, these are purely my suggestions and they are in no specific order. I hope you enjoy this dive into local menus and I'll hopefully be back with another take on other locations. If I know one thing, it's good food. I love to enjoy a great meal with family and friends and Hickory has one of the most diverse and growing culinary scenes around. A foodie at heart- this is truly a 100% honest and first person account of these locations and menu items. Enjoy & Bon Appetite! 
For more information on all the places to eat in the Hickory Metro, click here!