Tis the season for some Holiday cocktails! We have reached out to some of our local restaurants and distilleries to get the scoop on how they are celebrating this holiday season. If you are ready to sip through the holidays then let's get started.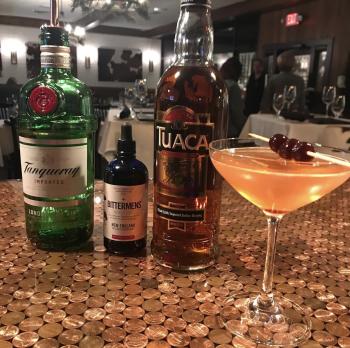 Charolais Steakhouse- The resident bartender, James (Instagram: The Old Soak), created this beautiful Christmas-inspired cocktail with Tanqueray Gin, Tuaca, Bitterness New England Spiced Cranberry bitters, a little cranberry juice, and a little house mix to brighten it up for the season! This beautiful drink goes perfectly with the Charolais Steakhouse delicious menu. *We recommend that you make a reservation to ensure that you get a seat! 
---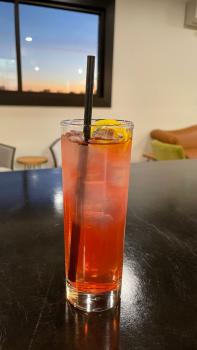 Warehouse Distillery- They have recently opened a new and improved cocktail bar right inside their distillery. You don't have to go far from the whiskey you are drinking to the exact place it is being made. Warehouse Distillery has a Holiday Punch that is sure to warm you up and make you bright and cheerful this holiday season. This cocktail is made with 1.5oz of any Warehouse Distillery whiskey, 1oz of fresh lemon juice, 1oz cranberry juice, and Ginger Ale. 

How to make it at home:
Combine Warehouse Distillery whiskey, lemon juice, cranberry juice, and shake over ice. Pour over fresh ice and top with ginger ale. Garnish with a lemon twist or cranberries!
---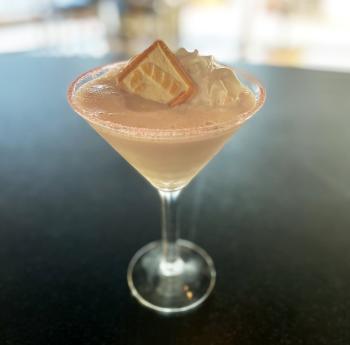 Fourk- has shared not one but two sweet holiday cocktails sure to put you in the holiday spirit, and bring you back to some memories of gingerbread cookies and holiday peppermint park! 
The first cocktail is their Gingerbread Martini! It brings back such great memories of baking gingerbread cookies and building a gingerbread house with the family during the holidays. Sorry I got a little nostalgic for a second back to this yummy drink! Fourk's Gingerbread Martini is made with 1/2 oz of vodka, 1/2 oz of vanilla vodka, 1/2 oz of Bailey's Irish cream, 1/2 oz Kahlua, 1/2 oz in house-made gingerbread syrup, a splash of cream, and then topped with whipped cream & a holiday cookie. Yummm that sounds so good!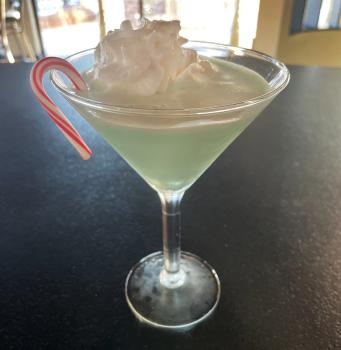 Fourk's second-holiday cocktail is their Peppermint Martini! Listen this brings you directly back to that peppermint bark and all kinds of goodness. This cocktail is made with 1 oz pinnacle whipped vodka, 1/2 oz creme de menthe (for the mint flavor and the perfect green in color), 1/2 oz creme de cacao, 2 oz cream, and then topped with whipped cream & a miniature candy cane. It is so festive, you really need to try it! 
---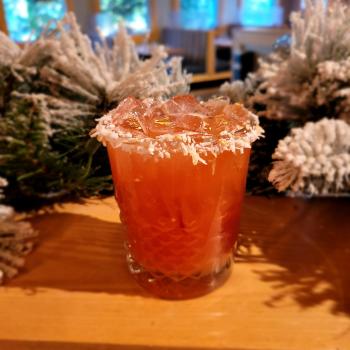 Cafe Rule & Wine Bar- has a thing for vintage yet classy specialties! I mean, have you seen the vintage, life-size motorcycle as you come in the front door? It's a really cool experience. Not only is the decore swanky, but their food is something all its own. They source food from local farmers and then combine new and exciting techniques to offer locally sourced eclectic cuisine! And we can't forget about their extensive global wine list. Anyway, enough about how awesome this restaurant is. Here are a few of their Holiday Cocktails! 
Christmas Vacation- is exactly what it sounds like, a tropical vacation from reality! This drink is made with ingredients that will make you feel like you are celebrating Christmas on a beach somewhere. If you aren't able to make it to the beach for a holiday vacation this drink will sure help to put you in the spirit. It's all ways 5 o'clock somewhere and might as well throw some Christmas lights on a palm tree. This delightful cocktail is made with Malibu, Bacardi, pineapple, strawberry puree, and peach schnapps.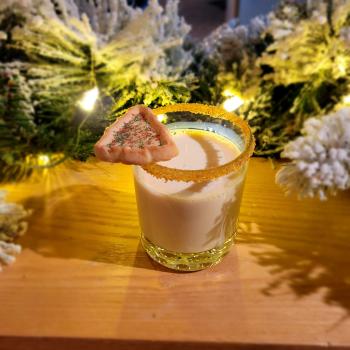 Santa's Cookies- when thinking about Santa and him eating cookies nowhere do you think about adding booze. But hey, he might need a little pick me up to make it through the deadlines of Christmas. Cafe Rule has come up with the perfect drink for Santa and you might want to try this one out too. The ingredients for this cocktail are butter pecan moonshine, Captain Morgan and cream, garnished with a sugar cookie. Can we just take a second and acknowledge that Cafe Rule is giving Santa moonshine and Captian Morgan with his Christmas cookies... #HappyHolidays!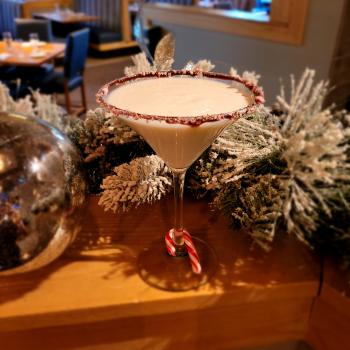 Peppermint Bark Martini- who doesn't love some peppermint bark! This is such a staple for the holiday season and now you can get those calories by drinking it! Just saying, if we are going to use precious calories it might as well be in a festive drink. This beautiful drink is made with white chocolate liqueur, peppermint liqueur, and cream with a chocolate-candy cane rim. 
---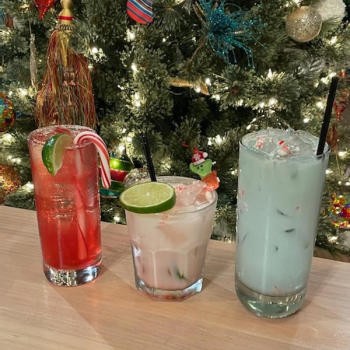 Mas Amor Cantina- is one of our newest restaurants and has such amazing flare, doing things just a little different. They have also shared three-holiday cocktails, and can I say I expected nothing less. All three of their cocktails are fun holiday-inspired margaritas! Stop into Mas Amor Cantina to try them all!
Jack Frost Margarita – Blue curacao, Godiva liqueur, Blanco tequila, peppermint pieces
Winter White Margarita – coconut water, coconut milk, Blanco tequila, Grand Marnier
Candy Cane Margarita – cranberry juice, Blanco tequila, Cointreau, peppermint
---
Crafting Cocktail Recipes at Home:
James Vinson (Resident Bartender at Charolais Steakhouse) has come up with some delicious holiday cocktails that you can make for all those fun holiday parties you have coming up! See below for ingredients and instructions for a holly jolly good time. 
EGGY WEGGY EGGNOG
Ingredients: 6 large eggs, separated, 3 cups of milk, 1 cup heavy cream, 3/4 cup white sugar, 1/4 cup bourbon, 2 tablespoons of brandy or cognac, 2 tablespoons of dark rum, 1/2 teaspoon fresh nutmeg
Instructions: This is a method exercise, but the effort really pays off in the end. First, seperate the egg yolks into a medium Pyrex bowl, and place this bowl over a pot of gently simmering water. Add 1/4 cup plus 2 tablespoons of white sugar to the yolks, and whisk until pale yellow and thickened. Probably around five minutes. Whisk in the milk, bourbon, brandy, and rum. Transfer this mixture to a larger container. Whisk the egg whites with 1/4 cup and 2 tablespoons of white sugar until stiff, white peaks develop. Combine the egg whites with the egg yolk mixture. Lightly whip the heavy cream until it starts to thicken slight, and then combine the cream with the egg mixture and the nutmeg. Thoroughly chill the eggnog and enjoy.
BOURBON WASSAIL PUNCH
Ingredients: 32 oz high quality apple cider, 15-20 Seventeen Twelve Bourbon, 2 lemons (thinly sliced), 3 Star Anise pods (whole), 1 cinnamon stick, 1/2 vanilla bean (spilt down the middle), & A couple of gratings of nutmeg from the microplane
Instructions: Slow heat is the key to success with an apple cider punch. Scorching the cider will product unlovely flavors. Add all nonalcoholic ingredients to a heavy-bottomed pot, or slow cooker. These should be allowed to cook for at least 30 minutes. The quality of the apple cider truly impacts to overall deliciousness of this recipe. One can add the bourbon at the end or the cooking period, or to mugs or glasses individually. One to one and a half ounces per serving.
For more info on our local restaurants or distilleries, click here!