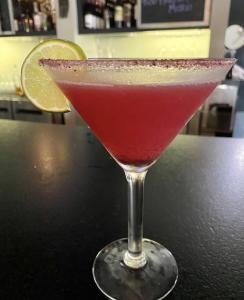 We are back with more artfully crafted and inspired beverages in the Hickory Metro! For round two we are taking you to 4 other locations and highlighting our favs. 
Our first stop this trip is at Fourk, located in Viewmont, and home to food (and drinks) with A twist! We love their "Grapefruit Basil" which touches all our favs like cucumber, grapefruit, basil and is finished with a sugar rim - so good! Looking for apps and a beverage with friends - be sure to add the Buffalo Bites or the Ahi Tuna with Avocado - trust us, so good!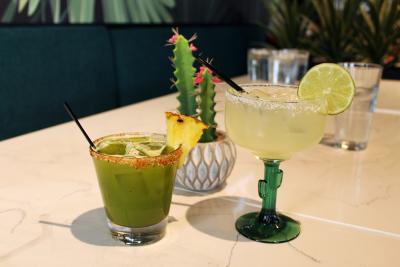 Stop number two brings us to Mas Amor Cantina - new to the culinary scene but makes huge waves. The drink menu is like a fun scavenger hunt, and we love to try them all, but if we had to choose... I think the Pineapple Cilantro Margarita might have our vote, until our next visit where we will be sure to find another fav. The Pineapple Cilantro concoction is mind-boggling and taste bud heaven! While it may not sound great to some, it is every bit as sweet and sour with a spicy rim! The perfect amount of goodness in a petite glass - our only problem is could we get a larger glass, please! But in all seriousness - this is worth the try! 
Now lets be-bop on over to stop number three at Notions in Downtown Hickory. We are going to add a little flare to this stop with a smokey drink that includes mezcal! "South of the Border" is a drink that promises some kick, smokiness, and the sweetness of blood orange. If smokey is your thing - it's a must-try. Or maybe you're interested in a sweeter concoction for the evening - be sure to try the "Slow Poke" with butterscotch & pineapple. Around the Holiday's be sure to look out for special creations and custom drinks that include cranberries and more! 
Our last stop along today's sip and stroll brings us to Backstreets Bar & Grill. Known to the locals as one of the longest-running locations in Hickory and local watering hole staple you can not go wrong! Backstreets is located in the Viewmont area of Hickory. A little off the beaten path but worth the trip - be sure to get yourself a margarita here. Some may say that's boring... but oh, they are so wrong! Their margarita is one of the best in the land! They use a smidge of mix, so it isn't too sweet or too sour and fresh lime. Think less yellow in color and more "lime water" in color but excellent in taste. Crisp and refreshing, it's a must if you stop in for lunch or dinner. Tequila not your thing... that's okay; the long-time, well-known, and friendly, almost like "Cheers" bartenders will take great care of you.
That rounds out day two of our sip and stroll around the Hickory area. We will be back with more amazing finds and if you're looking for more information on other cool cocktails and the restaurants they belong to, visit our Restaurants Page Here!