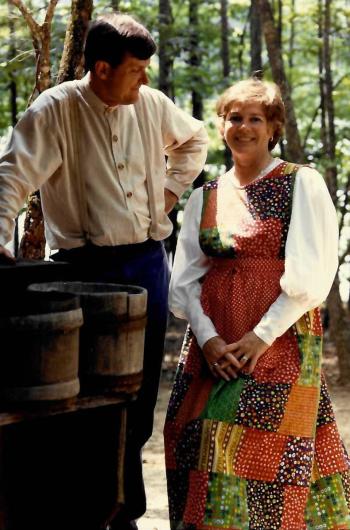 Fifty years ago, a passion for preserving early American history was ignited when a friend told Dr. Bob Hart about an old cabin that needed to be saved. Bob dismantled and transported the structure to his 200-acre woodland reserve where it was reassembled log by log on the banks of a pond. The Hunsucker House, circa 1840, marked the beginning of Hart Square Village, the nation's largest historic log cabin museum.  
During Bob's lifetime, the collection grew to 103 historic structures built between 1760 and 1893. Among these testaments to early American life, you will find family homes, a print shop, a grist mill, trade shops, a groundhog kiln, and the largest, and only mule-powered functioning antebellum cotton gin in North America. These historic structures were relocated from within 20 miles of Hart Square for the purpose of their ongoing preservation. The only exception is the cotton gin, which was relocated from South Carolina.
The acquisition and reconstruction of historic cabins was not enough for Bob, and he and his wife, Becky, spent much of their time seeking out authentic and time-period correct furnishings for each cabin. The first period antique that was acquired was a primitive jelly cupboard, paving the way for each structure to serve as an exhibit to our pioneer heritage. The museum does not confine artifacts to glass cases.  It does not rope off certain sections. Rather, each structure is a tribute to pioneer life and appears as if a family or tradesperson got up and walked out moments prior.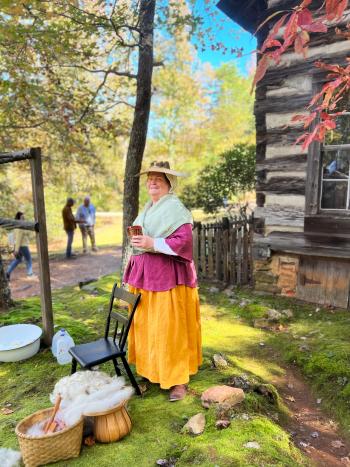 Today, the open-air museum is preserved and shared by Hart Square Foundation, a nonprofit dedicated to preserving the past for future generations. The Hart's donated the historic village, artifacts, and property to Hart Square Foundation in 2017. The Foundation is not only committed to preserving the historic structures that comprise Hart Square Village, but also to the preservation of traditional arts, trades, and the pioneer way of life. This has been accomplished by moving from opening to the public one time per year to offering year-round programming and lifelong learning opportunities.
Hart Square will welcome visitors to step back in time to the 1800's at the 38th Annual Living History Festival on October 28th.  Hart Square Village will bustle with craftspeople and historic demonstrators, many of whom have gained regional and national acclaim for their artistry. From lacemaking, to tin smithing, to turning pottery - traditional crafts and trades will be on display throughout the historic village.  In addition to this signature event, immersive living history experiences are provided annually at the May Day Festival and Christmas in the Village.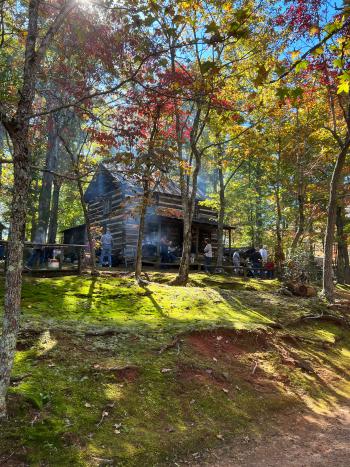 Hart Square offers a membership program, where members can access the site during weekly member-only hours.  Additionally, the site is open to the public through ticketed community events, classes, and workshops. From enjoying a concert, to attending a contra dance, to learning traditional crafts such as wood carving, leatherworking, bobbin lacemaking, or open hearth cooking - there is truly something for everyone at Hart Square Village.
Bob and Becky Hart agreed that, "Hart Square isn't worth all the work unless there are others to share it with, others to learn with and from, and others to enjoy this little piece of our past." The Hart Square Foundation team shares this belief and strives daily to honor the legacy of Dr. Bob Hart while preserving and sharing this national treasure. Whether you become a member, visit the site as a student on a field trip, or attend a community event, we hope to see you at Hart Square soon!
Visit www.hartsquare.com for more information.