COVID-19 updates for the Fall Season
Update: 9/21/2021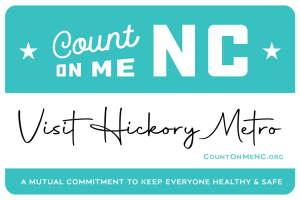 Hello visitors and local friends. We are thrilled you have visited our local Hickory Metro COVID-19 information page. We are now well over a year into this COVID-19 pandemic and this new daily (always changing) normal. As we try to keep everyone safe, we wanted to update you on openings, closings, changes in service, and other pieces of information we feel locals and visitors might find helpful. 
With most restaurants back open, locations are focused on serving you safely and as quickly as possible. While social distancing is still encouraged state and national officials are still asking for people unvaccinated and fully vaccinated to wear a mask if you are unable to properly social distance or are indoors. 
We also encourage you and your family to keep hand sanitizer near - we have tons of shops locally that offer hand made hand sanitizer that smells amazing! Support local! Artisan Soapery, Carolina Crafted & more. 
Our Hotels and over night accommodations are open and accepting reservations. Please note that some properties may have more strict cleaning procedures which could impact check-in/check-out processes. For more information on where to stay in the Metro click here. 
Here are some resources that our community and tourism partners are working to implement and we ask that as a visitor and local you plan to help do your part in these as well. We all must do our part to protect the health and wellness of those around us. Remember the three W's - Wear. Wait. Wash. 
Helpful Resources:
Listings on the www.Visithickorymetro.com website – Moving forward listings for restaurants, shops and attractions will now have updated information on their COVID-19 guidelines and new amenities that they are offering. If they have an online shop that will be listed as well.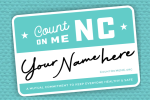 Count on Me NC - "Count on Me NC" is a health and safety campaign created in partnership with Visit NC, NC Restaurant & Lodging Association, NC State University and other entities in North Carolina. This campaign offers FREE online training to restaurant owners, managers and staff as well as Hoteliers, Attractions. Visitors Centers, and even has a component for locals and visitors to take the training to understand how to travel and visit locations in a safe manor. Once locations take the training programs they will receive a printable certificate as well as an opportunity to download decals and logos to use on their organizations social media accounts, website and also display in their brick and mortar location. Also, once a manager or owner completes the online training they will be able to have their business listed on the Count on Me NC website as a participating NC business. Again this is FREE to all who would like to complete the training and everyone can access the information here. As a local and visitor we encourage you to also participate in this to learn how to visit safely as we move forward. 
Remember, we can all do our part in helping local businesses stay in business and we also encourage you to be patient as most locations are trying to rebuild their staff at this time as well.
Shopping curb-side and wearing your mask in the store locations. 
Drive through, delivery and take out options for your favorite restaurants.
Online shopping at local shops – especially this Holiday Season!
Buying gift cards to stores and restaurants to use a later dates (gift cards mean cash NOW for a business to stay afloat)
Tipping extra where you can - especially on takeout, delivery or curbside services
If you are interested in finding work within the Hospitality Industry in the Hickory Metro feel free to reach out to us and we can help point you in the right direction! 
**Please note - those with weaker immune systems, those prone to sickness and those with preexisting conditions to remain cautious when out in public and take the necessary precautions. If you are sick, have any symptoms of COVID-19 please stay home to help stop the spread of this virus. 
For up to date information on COVID-19: 
NC Department of Health & Human Services webpage 
Catawba County Public Health webpage 
Centers for Disease Control & Prevention
Please watch here and these linked sites as well as our social media outlets for updated resources to help navigate this shifting landscape. We will get through this together and we are in this together.
#HickoryMetroStrong