Welcome to the Furniture Manufacturing Capital of the World
    Everyone kno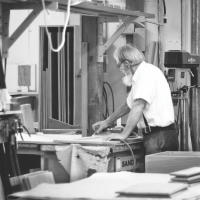 ws it. Everyone uses it. Yet to those who live in Hickory and the Catawba Valley region, the definition of furniture is so much deeper, richer and stronger. People eat, sleep and breathe furniture in this community. So much of who we are and what we do revolves around this one simple word. The history of furniture runs so deep in our community that its roots intertwine with countless industries, businesses and common aspects of everyday life. In fact, it is estimated that approximately 60% of all furniture in American homes originates from North Carolina furniture manufacturers and related industry vendors. And many of these furniture businesses are located right here in our region. If you ever visit Hickory, you will notice that almost everywhere you turn, the people you meet all have some connection to furniture. Whether their grandfather hauled lumber to a local sawmill for furniture production, their father worked directly in a factory upholstering furniture, or their aunt worked as an interior designer helping visitors select the best furniture
for their homes, for over a century, this community has truly been shaped by furniture. To this day, when you travel around the world and tell people where you are from, they almost always smile and recite that one familiar word: FURNITURE. 
    Hickory can trace its furniture heritage back to the early 1900's. George W. Hall was a local merchant who watched freight trains haul southern lumber to northern furniture factories. Hall and a group of Hickory businessmen and bankers decided that Hickory's regional lumber supplies should be used to build furniture in Hickory to support the local economy. After much deliberation and careful planning, they opened up the first furniture factory in town and called i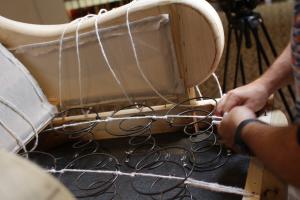 t Hickory Furniture Company. Hall was only 28 years old at the time when he managed that first factory and after it was successful, he decided to help start Hickory's second furniture factory - Martin Furniture Co., which opened less than a year later. These two factories helped create a solid foundation for furniture manufacturers to grow and branch off into new companies for many years to come. The plentiful lumber resources and trade routes along the native rivers in the Catawba Valley region provided a natural pathway, which encouraged skilled craftsmen and designers to settle in Hickory. These craftsmen trained the eager workforce that already existed in the area. By the 1920's and 1930's, more furniture factories continued to open and expand throughout Hickory and the Catawba Valley.
    In the late 1950's another local businessman and his wife - Leroy Lail and Lynn Mull Lail - owned a successful motel and restaurant in Hickory. Mull's Motel and Restaurant was already a popular destination for furniture
wholesale dealers and buyers traveling through town on business. Since many of these buyers stayed at the motel and ate at the restaurant while they were in town, several local furniture manufacturers decided to establish Mull's as a central meeting point to showcase all of their product lines to potential new buyers. Once these product lines became larger and more diverse, Leroy and Lynn offered to open up the basement of their restaurant to these furniture manufacturers so they could display more of their products to these traveling buyers who were already staying on-site at their motel.
    It was around 1960, when Leroy Lail encouraged a core group of local furniture manufacturers to come together as an industry and
display their products twice a year on a much larger scale; once in the spring and once in the fall. The manufacturers agreed and this bi-annual wholesale furniture event became known as The Southern Furniture Market, which took place on the same site of what is now known as Hickory Furniture Mart. The Southern Furniture Market continued to gain popularity and grow in attendance over the years. By 1985, the Lail family decided to convert their bi-annual wholesale furniture exhibition space into a year-round retail furniture destination where locally owned furniture manufacturers could distribute their products through locally owned retail furniture showrooms. For the first time ever, visitors from around the world now had public access to the most diverse high-quality handcrafted furniture selections available with the additional benefit of receiving exclusive industry discounts that were comparable to wholesale pricing. The Southern Furniture Wholesale Market officially transitioned into Hickory Furniture Mart and Hickory soon became known as The Furniture Capital of The World. To this day, visitors from every US state and several international countries continue to travel to Hickory to purchase their furniture where the quality, value, selection and service is unlike anywhere else.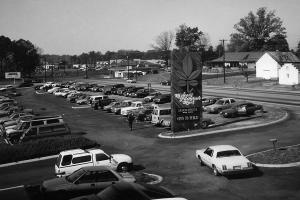 Over the years the furniture industry has continued to transform itself. Like any industry, it has weathered the natural ebbs and flows of the economic pendulum, and it continues to evolve. The advancement of technology has changed not only the way furniture is manufactured, distributed and sold, but it also opens up new modernized career opportunities in both furniture and design. For those companies willing to embrace these changes, the opportunities are endless.
    Today, the furniture industry in this region is experiencing substantial growth, especially in custom upholstered products. Many manufacturers are expanding and finding a need to add to their workforce in order to meet an increased demand for their products. This presents a new set of challenges for the furniture industry…training the next generation with the same expert skills of previous generations. Understanding this emerging need, several local furniture manufacturers proactively joined forces to recruit and train the next generation of furniture craftsman.
Their vision was to create an industry-driven training program that would prepare students for skilled positions that are in high demand by one of the region's largest employers ~ the furniture industry. The program partners with a local community college and offers a series of classes including furniture fundamentals, pattern making, manual and automated cutting, sewing, introduction to upholstery, inside and outside upholstery and spring up. Students learn the necessary skills from experienced craftsman within the local furniture community. The Furniture Academy at Catawba Valley Community College currently has two campus locations in this region and is used as a successful model for other cities and states who have added similar programs in shared and related industries. Century Furniture, Lee Industries, Lexington Home Brands, Sherrill Furniture and Vangu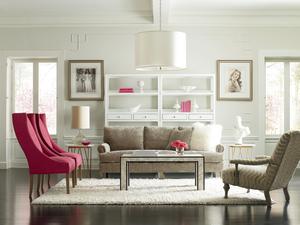 ard Furniture are all founding partners of this program, which continues to receive accolades for their vision and commitment to working together as a community to fulfill a common need. The Furniture Academy not only helps furniture manufacturers obtain skilled craftsmen, it also helps support the local workforce and directly
benefits the regional economy.  As the world continues to change, so will the furniture industry. Preserving time honored traditions of handcrafting high-quality furniture will remain a top priority but will also be modified to meet the changing demands of a new generation that is mobile, tech savvy and environmentally conscious. These are all common challenges within any industry and Hickory has a proven track record for being a resilient community that rises to the occasion with any good challenge.