In Response to COVID-19
Update: 3/26/2020
We understand that fewer visitors are traveling and this is not a time for travel or exploring. We are all adjusting to these new norms and the situation at hand.  The impacts of COVID-19 have changed and will continue to change the landscape in the Hospitality and Tourism industry for an uncertain amount of time. However, our local businesses & restaurants need your help. We are seeing locally owned locations making hard but necessary and responsible decisions in their businesses and communities. However, there are ways that you we can help during this time of need and make a difference.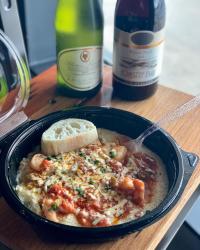 We are still encouraging: 
Drive through for take out 
Shopping curb-side 
Online shopping at local shops
Buying gift cards to stores and restaurants to use a later dates (gift cards mean cash NOW for a business to stay afloat)
Tipping extra where you can - especially on takeout, delivery or curbside services
With help from local partners we have compiled a list of online resources to help navigate this difficult time. 
The Chamber of Catawba County constructed this"Take-Out Blitz" list of Restaurants within their membership, the Hickory Downtown Development Association & the Newton Downtown Development Association.  
The Hickory Young Professionals started an interactive Facebook Group called "HYPin' Up Locals!" where restaurants, businesses, workout instructors etc. can post how they are working to stay open for the public. Free workout classes streamed online, promotions on "virtual shopping" experiences, and more.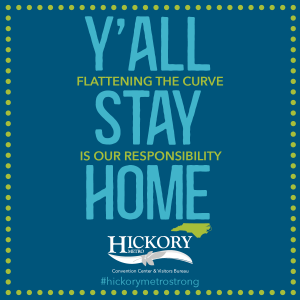 UPDATE: Check out our most recent blog post on "At Home Happy Hour" during quarantine  
Please note - we are encouraging people to stay home except for essential trips to the grocery store, to pick up food or visits to the pharmacy or doctor. Please help us flatten the curve! 
For up to date information on COVID-19: 
NC Department of Health & Human Services webpage 
Catawba County Public Health webpage 
Centers for Disease Control & Prevention
Things you can do: Get outside for fresh air!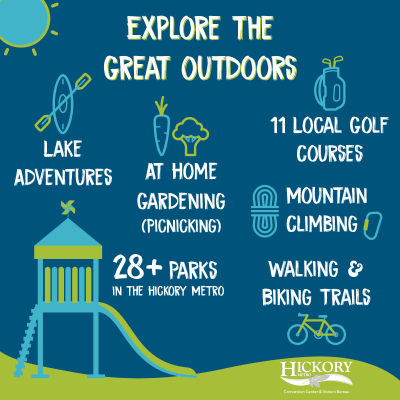 Please watch here and these linked sites as well as our social media outlets for updated resources to help navigate this shifting landscape. We will get through this together and we are in this together.
#HickoryMetroStrong