It's time to meet a true Brew Master, Frank Reinhardt at Cabin 68 Brewing at Catawba Farms. Frank is a part of Catawba Farms which is a 34-acre venue including a vineyard, winery, B&B, ice skating rink, farm (tons of animals and honey bees), and of course a brewery. They are truly doing it all! 
More about Frank, he was born and raised in Newton, NC, and was an aircraft mechanic for 37 years. He still tinkers with various aircraft and is currently building a plane in his spare time. Frank has been homebrewing since 1985 so you can say that it's in his blood. 
Why did you decide to start brewing/venture into craft beer? 
Frank: While in Colonial Williamsburg with my parents, I tasted my dad's ale and it was the best stuff I ever tasted. I have been trying to recreate that ale since 1985. The brewery that made it went out of business and no one knows the recipe. 
Tell me a bit about the history of the brewery: 
F: After leaving aviation in 2017, I began working at Catawba Farms as the facilities manager. I agreed to help the partners at Catawba Farms get a brewery running to go with their winery. We started with a small 1.5-barrel system. In 2020, we got a 3-barrel system and set it up where is it is currently at the back of the tasting room. 
How many employees do you have? 
F: I am the only brewer but do get assistance from other staff at Catawba Farms.
 What is your thought process when coming up with new flavors and styles? How about the names of your beers? 
F: I try to imagine food and beverage combinations that I think would be good and come up with those flavors to turn into a beer. We try to name our beers after farm animals or implements as well as local areas of interest.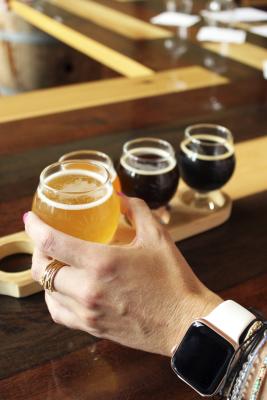 Tell me about the first beer you made- if you remember. 
F: It was a kit bought from Alternative Beverage in Charlotte. I believe it was an English-style sweet ale. 
Is working at a brewery different than what you thought it would be? How so? 
F: Not really. I didn't have any preconceptions. Just put the system together and started brewing. There was trial and error until I got to where I wanted it to be based on customer input.
What is unique about YOUR beer? 
F: All of my recipes come out of my head. Nothing too crazy yet, but that is coming since I have my base recipes in hand. 
How is your beer connected to the Catawba Valley Region? 
F: My family has been in Catawba/Lincoln counties since 1743, and I'm pretty sure they were making homebrew all along. My base malts come from Carolina Malt House, and they get all of their grains from a 70-mile radius of Statesville. 
What steps do you take to give back to the community and/or the environment? 
F: We have been working with the Advertising & Graphic Arts program at Catawba Valley Community College to develop our beer labels. The students get real-world experience, and we are blown away by their work. The owners of Catawba Farms are also involved with the Catawba County Chamber and do various community-building projects. They are currently helping to establish the Snowhill Community Garden in East Newton.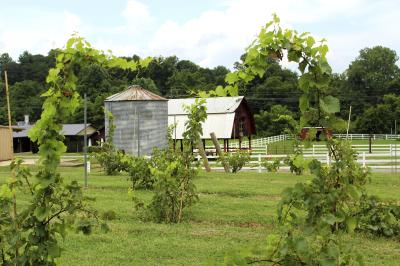 Anything else you would like to share? 
F: Catawba Farms is so much more than just a Winery and Brewery. We have animals on-site and have crops such as strawberries and grapevines. We have something for all ages and are very family-friendly. We have a live music series,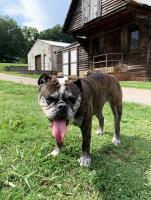 Get Your NewtOn!— now in its 7th year. The music series continues through the summer and on select weekends we have festivals. We have 34 acres that our guests can explore, and we are continuing to come up with new ways to use our resources. 
Oh, and Catawba Farms is dog friendly!! 
For more information on Cabin 68 Brewing at Catawba Farms or The Catawba Valley Ale Trail click here.