WORTH THE DRIVE
Think you know Hickory? Think again.
Named one of the Best Small Cities in America by National Geographic Travel in 2018, Hickory has evolved beyond its furniture-industry roots to become a haven for people interested in crafting a good life for themselves, their community, and future generations. Businesses are locating there, people are moving there, and if being ranked 16thin the state for tourism is any indicator, visitors are flocking there, too.
Perhaps it's because folks are realizing what locals have known all along: the Greater Hickory Metro area has a lot to offer. Consider the spectacular outdoor recreation, locally-made goods, breweries and distilleries, seriously good local food, a vibrant arts scene, more than 50 parks, and three lakes… all within less than an hour's drive from Charlotte.
While similar offerings can be found in Charlotte and other cities and towns, it's Hickory's uniquely local vibe of craftsmanship and connectedness that help make it a welcoming place for residents and visitors alike. In Hickory, the good life isn't just about having a lot to do. It's also about how you experience them.
It's about tasting locally-made bourbon and meeting the farmer and distiller who make it. It's about admiring a folk art exhibit and starting your own collection by local artists. It's about attending a film festival and discussing the films afterwards with like-minded enthusiasts. It's about the epic stories you'll share over beers after shredding miles of mountain bike trails. It's about eating like an insider and bragging about all the hidden gems you found when you return home.
When looking for something to do in Hickory, locals are advised to "think like a tourist." The Hickory Metro Convention Center and Visitors Bureau is always a great place to start, be it learning about great places to visit on their social media feeds or upcoming events at www.visithickorymetro.com. To get your bearings, take a bird's eye virtual tour of Hickory and surrounding landmarks at www.myhky.com.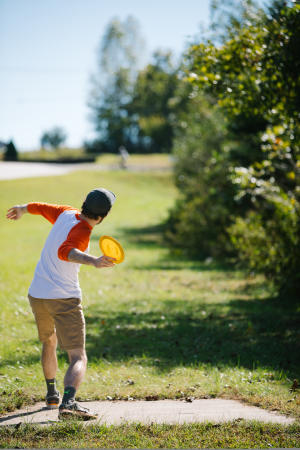 You can also ask around. Consider this advice from Ariel Allensworth, a local IT specialist and Army veteran who moved to Hickory from Fayetteville, North Carolina with his wife Jeanette Le Roux, a recently relocated South African.
"Our favorite thing about living here is that any day you can leave the house, go do something, and you can never get tired of doing things because there's so much," said Allensworth. "Sometimes we'll go to Taste Full Beans coffee shop downtown and sit there for a few hours, maybe reading or working on our computers. Other times we'll walk around and get some wine downtown, or stop in for trivia night at Craft Beer Cellar. There's endless things to do and time to do them, which has probably the greatest impact on our lives because it's creating memories." Find more stories from locals at www.makinglivingbetter.com. 
Just when you think you have Hickory figured out, you realize you've only just scratched the surface. Every visit to Hickory is different, because there's always something new to experience. 
Looking for something to do tomorrow? Next weekend? Hickory will make it worth the drive. Again.