Discover the Charm of Catawba Farms
We introduce you to Twyla Deese, co-owner of Catawba Farms, Winery & Brewery. Twyla brings to light the unique charms that the Farm has to offer. Read along to find out more about the owners, the Farm and upcoming events. 
Tell us a little about you: 
Hi, I am Twyla Deese and I am one of the owners at the Winery and Brewery at Catawba Farms along with Michael Waltuch and Dennis Baucom. The three of us met through our IT careers and through our love of wine.  Foremost and forever, I am a Yoga teacher and offer classes at Catawba Farms and other area studios (check out the schedule here.) Yoga can transform your life - making one, more accomplished at living and I credit the practice for some of the more creative aspects that we are able to share with the community at the Farm.
What is your favorite thing about what you do?
Sharing the depth of benefits of Yoga with others and working to build the community through partnerships with others.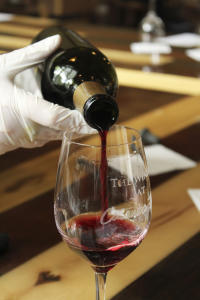 What unique thing about your business do you find people do not know: 
That we, as owners at Catawba Farms really do believe in community building on multiple levels and are striving to build an agritourism destination for Catawba County that will persist beyond our involvement. We brew our own beer and make our own wine to elevate spirits!
What is one of your favorite things about the Hospitality Industry in the Hickory Metro?
The hospitality industry in Catawba County has the most fabulous people. They really do care about service to others— which is what life is about!
Any secret recipes or menu items that we should know about?? Or any secrets about your location that we need to know? 

Catawba Farms is packed full of intriguing stories about its founders from the Sigmon family escapades of Big Edd to the current owners with colorful tales of Marine Corps life from Dennis and philosophic gardening musings from Michael.  Our secret recipe is this mix of past and present owners who really could not be more different from one another. We invite everyone to stop by for a visit and discover the charm of the Farm with the varied stories and rich history of Catawba Farms!
Recent happenings & upcoming events: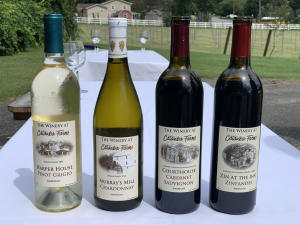 - Four new Wines were released in honor of historical sites around Catawba County. (Pictured to the right) They include Harper House Pinot Grigio, Murray's Mill Chardonnay, Courthouse Cabernet Sauvignon & Zin at the Inn Zinfandel. 
- Catawba Farms partnered on the Red Hawk - Red Blend, released September 2020 with Catawba Valley Community College. A portion of the proceeds from a purchase goes back to the Alumni Association for CVCC. 
-Oktoberfest at the Farm will be held October 17, 2020 12-8pm. This outside event includes vendors, music, artisan booths, German food and more. 
- For more information on happenings at the "Farm" visit catawbafarms.com 
**Catawba Farms, set on 34 pastoral acres within an hour's drive of Charlotte, North Carolina, is many things. At its heart is The Peacock Inn, an historic five-room bed & breakfast and beverage Tasting Room. It's also a winery and craft brewery, as well as a venue for receptions, reunions, parties, and corporate meetings. Catawba Farms hosts a wide variety of events on its scenic grounds, including live music, festivals, and fun activities for the whole family.