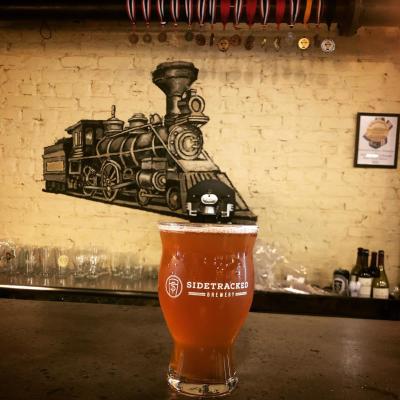 Listen in to Joseph Ackerman, the conductor at SideTracked Brewery share his story on how he got this train started and how he keeps the coal rolling. 
Katherine: Tell me a little bit about yourself, your name, what brewery you are with, and where you're from.
Joseph: I am Joseph Ackerman, I own Sidetracked Brewery. I'm from Columbia, South Carolina, and I have been in the beer industry for 13 years now. I started working at the biggest beer store in the southeast, called Green's Beverage Warehouse in Colombia. I had been homebrewing for about 9 years and decided that it was time for me to pursue my dreams of owning a brewery. It was 2012 and Columbia didn't have a brewery and my wife and I wanted to start a family and have a stable income so I decided to go all-in and launch a brewery called Conquest Brewing in January of 2013. In 2015 a series of events took place that ended with me being bought out of the brewery. I took some time to think about everything and decided that I wanted to brew beer still. I talked with my wife and I decided to get on probrewer.com and found a position brewing for Granite Falls Brewery and moved my family to North Carolina to continue work in the craft beer industry.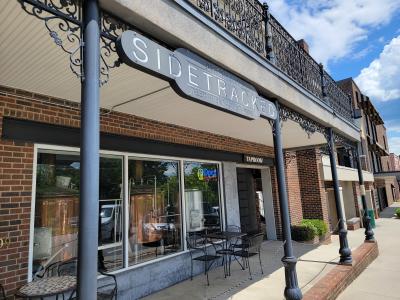 K: How did you get involved with Sidetracked?
J: I worked with Granite Falls for two and a half years. At the time Sidetracked was a bottle shop and would host tap takeovers often. I was here as a representative for Granite Falls for a tap takeover one night and the owner was talking to me about wanting to sell beer made there rather than buying other people's beer. He had only tried a few homebrew kits, none of which were successful so he asked me if I would like to come brew for them. We went back and forth for a few months because I knew I wanted to buy into the company so I couldn't get voted out like I had in the previous brewery. I enjoyed living here and knew I wanted a long-term investment. December of 2017, we came upon an agreement and we started the build-out and equipment purchasing. In February of 2018, we started brewing and our first beer was on tap in March. That same week, the other owners had their first child and they discovered the hours weren't ideal for their family and asked if I wanted to buy them out. Through some networking with customers, I was able to come up with the capital needed and bought the brewery on August 3rd of 2018.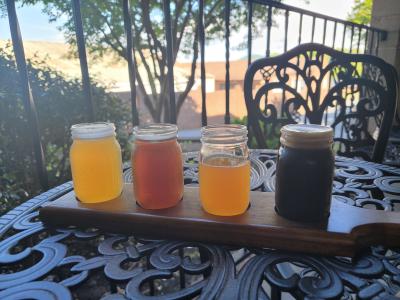 K: Is owning a brewery different than you thought it would be? If so how?
J: I love owning a brewery this size. If I was still back in Colombia, at my first brewery, it would be huge, it would be in multiple states now, and I would probably be spending all my time on the computer. I wouldn't be brewing, I wouldn't be doing what I love to do. I think it was divine providence, the hand of God moved my family to exactly where we needed to be. Now I'm living the actual dream, not what I thought was the dream originally, but what I now know I am supposed to be doing. I have a lot of buddies still working for large breweries doing sales and distribution. They all live this very stressful life where they're worried about product dates on grocery store shelves, small margins, and working 60-80 hours a week. I get to keep my brewery small and manageable while still getting to brew and interact with my customers. I do what I love and make enough money to raise my kids, that's all I need to do.
K: How many employees do you all have right now?
J: I have five employees and then myself, right now the others are all bartenders. I am planning on hiring one of them full-time to help with the books and administration later in the year after recovering a little more from 2020. I hope to bring another one of them on to help with brewing in the future as well but we will see how things go in 2021.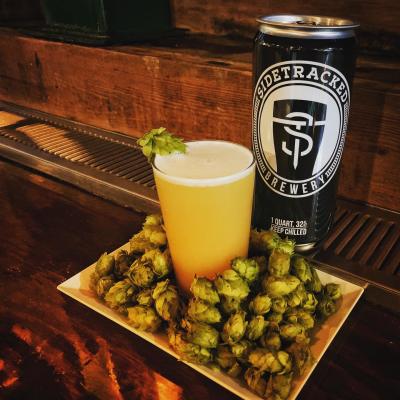 K: What is your thought process when coming up with new flavors and styles of beer, and how do you name those beers?
J: Haha, naming sucks, having been doing it for this long and having put out hundreds of different beer names it gets challenging. At this point I get input from all of my employees, I will send out a group text and say "we have this new beer featuring these ingredients, anybody has any ideas?" Sometimes that works or other times I bounce ideas off friends or people sitting at the bar. A time or two I have even gone to Facebook and asked suggestions from followers- that's how we got one of my favorites, fuzzy caboose, the peach ale. As far as coming up with beers, I do a lot of classic styles as you know, Irish Dry Stout, Hefeweizen, and I have to have a hazy IPA because that's the world we live in now. The first eight on the board I try to keep pretty much the same year-round. The second eight are seasonal, one-off experimental, different beers, like the bonfire water is one we collaborated with Boulevard BBQ on, we smoked 250 pounds of malt in their smokers before adding it. We also have the nine and three quarters which was one of my bartender's wife's ideas. It tastes like a butterbeer from the Harry Potter series, hence the name. We are also working on some barrel-aged sours and imperials that will be ready in the next 6-8 months that we are excited about. It's all just sticking to classics and putting our spin on them.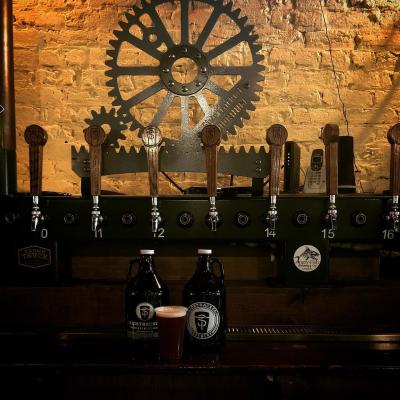 K: That's awesome. Tell me about the first beer that you made as a homebrewer. What was the first one that you just really wanted to try?
J: So before you're 21 you can actually buy the ingredients to make beer since it's really just grain. I was probably 18 and a friend called me saying he read you could make beer in a coffee maker. I said alright, let's give it a shot. It didn't work, the beer was awful but it got me interested in the brewing process and so I started homebrewing on my stovetop, in my little apartment in Colombia, which went a lot smoother. We had a pretty robust homebrew club down there, probably a good 30-40 members, and so I started getting into that and learned from the others and bouncing ideas off of them. The first drinkable beer I made was an Irish Dry Stout, and I continued working on the recipe for that stout and perfecting it till 2019 when I got it right. I entered it in the NC Brewers Cup, which is the most prestigious North Carolina beer competition and I won best in show for all stouts with that recipe.
K: Brewing is a labor of love. So, you kind of touched on this a little bit but is working in a brewery/owning a brewery different than what you thought it'd be, and if so, how so?
J: So in production, it's awful. Where I came from at Conquest, I was the early man. Every day I was at work at 4:30 in the morning and left at 6:30 at night, six days a week. The first nine months of my daughter's life I hardly saw her. That was that working production, and that's still what a lot of my buddies are doing. Owning and operating a small brewery is a lot more like my expectations and is what I want to be doing. If restaurants and bars want my beer they can get a keg of anything they want. I like not having to go on sales calls or anything like that. I also feel more unique and love that I can transition to brewing new things quickly because of the smaller system. Overall it is a better fit and more enjoyable but I am thankful to have experience brewing on that scale because I think it helps me be a better brewer on a small scale.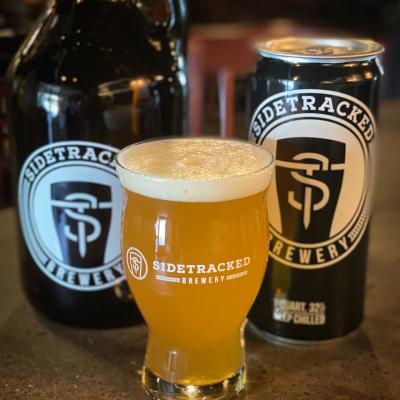 K: What is unique about your beer and how is your beer connected to the Catawba Valley Region?
J: Okay well so for one thing, 100% of our base malt, which is like the major contributor of where the alcohol comes from in a beer, is all grown in North Carolina. And so that's something that I can get Canadian for cheaper, I love Canadian malt and have used it most of my career, but it's worth it to me to put the money back into the North Carolina economy. When I'm selling all the beer at my bar in house, I can pretty well absorb the costs associated with buying local. What is unique about my beer I think is that it is very rare that you will find a small brewery like this that does a lot of classic styles and does them well. That is what I strive to do when I come out with a beer. I will take the quintessential example of that style and then I will compare my beer to theirs. I'll do side-by-side blind taste tests with multiple people writing notes about the beers, and see how I stack up against the best in the world. I don't think you have a lot of people necessarily doing that. I also pride myself on having a wide variety of beers.
K: What steps do you take to get back to the community and for the environment?
J: We donate all of our spent grain to local farmers and we do our best to recycle as much heat as we can. We reuse as much water as we can as well, which we do for efficiency's sake but also with the environment in mind. For the community, that is actually our ONE WORD mission statement. I was at the NC craft brewers conference in 2018, the director of foothills social media did a speech about your identity and the thing that stuck with me was that you need to distill your mission down to one word. For foothills, the word is fun. Everything is filtered through that word. For us, the word is community. We do whatever we can do, we've done a partnership with the Outreach Center, who was giving gifts to kids that were less fortunate. We accepted donations here, and we were able to get these kids at Christmas. We are hosting a Big Brothers Big Sisters meeting here next week. We used to have a sip and sign event which was a great connection with the deaf community here in Morganton and we are hoping to bring that back now that COVID is almost through.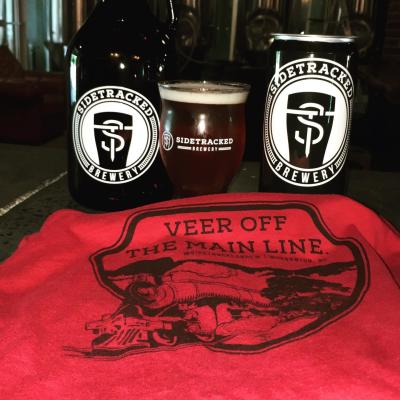 We have couches, board games, cornhole, and darts which help create a community space where people can hang out and talk to one another and build relationships.
K: Last Question, any beers you're excited about that will be coming out soon?
J: We will be brewing twice as much of our Octoberfest that sold out before October last year which I am very excited about. We also have some fruited IPA's made with local strawberries that will be coming out soon which will taste amazing. We also have a fun collaboration beer that is being bottled that I am very excited about and then some barrel-aged beer as well so we have a lot coming down the pipe for people to look forward to. Check out our social media to see when those releases will be happening.
For more information on SideTracked Brewery and the Catawba Valley Ale Trail click here.