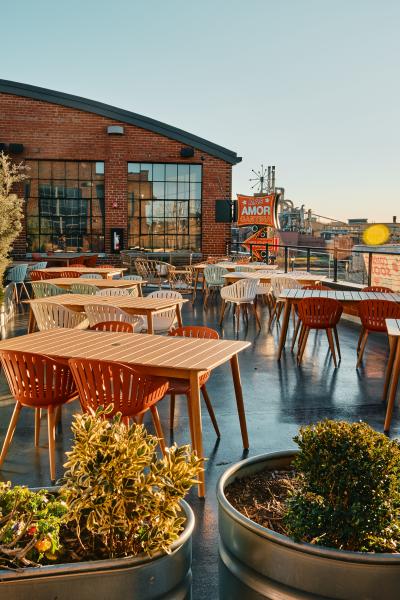 Are you ready for the summertime sunshine? Let us open the door to many experiences for you to explore here in the Hickory Metro. Plunge into fantastic outdoor dining or fall more in love with nature at a local park/trail! Or are you wanting high-adventure recreation? We have many options for your outdoor journey. 
Take in the sunshine while enjoying fresh and authentic meals at one of the many outdoor patios! Begin the morning at Olde Hickory Station or Taste Full Beans Coffee, Tea & Cafe with a filling breakfast. After enjoying a walk around Union Square, select a superb lunch spot like Hatch Sandwich Shop, Crescent Moon Cafe, or Plant Base Boss. Have you ever wanted to catch a sunset while enjoying a spicy margarita on the outdoor patio, Mas Amor Cantina has you covered. A few of our other favorites are; Cowa Saké, new on the scene, Notions an upscale delight, Standard Oryster, with the freshest seafood in the area, Boca, offering authentic Mediterranean food, and Café Rule & Wine Bar, sharing an extensive wine list. Oh, how could we not share our favorite wine shop, Hickory Wine Shoppe offers tons of wine and snack options. 
Connecting several of these restaurants, local shops, and more is The Hickory Trail. This trail is over 10 miles of walking and biking paths connecting Lenoir Rhyne University (LRU) and Downtown Hickory to the Crawdads Statium and the Hickory Aviation Museum. When you start at LR you can walk to Downtown Hickory on the Citywalk portion of the Hickory Trail.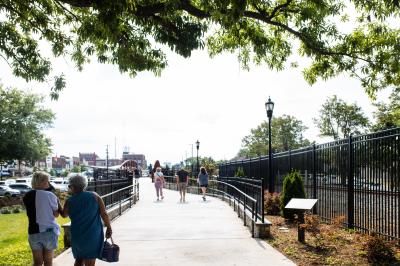 The Citywalk portion of the trail connects you to tons of restaurants, shopping, farmer's markets, music venues, and much more. Continuing along this trail, you will go through the Arts District (still under construction). Following the Arts District, you will meander out of Downtown Hickory towards Geitner Park and Lake Hickory which is a part of the Riverwalk, featuring an over-the-lake bridge that has a stunning view of Lake Hickory. After walking along the Riverwalk, it connects you to the Aviation Walk, bringing you to the final stops, including the Hickory Crawdads Stadium and the Hickory Aviation Museum. 
Catawba County has over 50+ parks and trails to peak your senses and offer an opportunity to take in the fresh air. The major hiking and mountain biking parks in Catawba County are Barkers Mountain Park, Riverbend Park, and Mountain Creek Park. Bakers Mountain is the highest peak in Catawba County giving incredible views of the metro region. Riverbend has hiking and biking, but is also part of the Blueways trial and has excellent spots to go kayaking and fishing. The newest park in Catabwa County, which celebrates its first birthday this month, is Mountain Creek Park (MCP). MCP is a mountain bikers' paradise with 19.52 challenging miles of riding trails. There is also a wildly delightful accessible playground. MCP is a grand place for bird watching or a short walk. There is even a kayak put in. Shout out to the park rangers who are always out and about looking for ways to help you stay safe and enjoy the amazing outdoors. If you are looking for more park activities, visit http://catawbacountyparks.org/#section-park-activities.
Have you heard about our high adventure recreation? Not including the miles and miles of mountain biking trails, we have a few additional spots to get your blood pumping while visiting with us! Did you know that we have a lake, yes, that's right, we have over 100 miles of shoreline on Lake Hickory! With four different marinas, you can put your boat or kayak in for a fun-filled day on the water. There are also several fishing holes to hook a good size bass. If you want to face fears, you must try out Treetop Adventures and gear up with helmets and harnesses for hours of zipping through trees. 
Whether you are roaming around our lovely downtowns, grabbing a bite to eat at a local restaurant, or soaring through the trees to create memories, our outdoor scene is sure to put a smile on your face!