We are ringing in this new year with lots of resolutions and goals, but they look a little different. As you start 2023, we hope that the year is full of many new adventures! One of the best adventures, is exploring the natural beauty of the outdoors, getting on a hiking path or biking trail to get your blood pumping. Now let us introduce you to what this New Year brings for us at Visit Hickory Metro and North Carolina as a whole.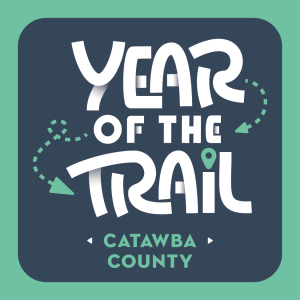 This year, 2023, the state of North Carolina has declared it the Year of The Trail. As a state we are working to share that there is a trail for every single one of us. NC has been dubbed "the Great Trail State" and we look forward to proving that to you. Over the course of this year, our goal is to inspire you to try out our trails, learn about the leave no trace principles and the history of our trails while having a great time.  
We at Visit Hickory Metro have collaborated with Visit North Carolina, Great Trails NC, Catawba County Parks, and other local municipalities to showcase our spectacular outdoor amenities. Did you know that just in Catawba County we have over 50 plus parks and trails? Just to name a few:
-Riverbend Park is named after its idyllic location along the Catawba River, this 690-acre parks's 19.7-mile trail system winds through two distinct habitats that are home to a variety of wildlife: densely wooded upland forest popular with hikers and preserved native grasslands affectionately known as "trail runner's heaven." Visitors to Riverbend also enjoy river access for paddling, a dog park, and an observation deck perfect for viewing Oxford Dam or casting a line. 
-Bakers Mountain Park is located on the highest elevation point in Catawba County (1780 feet). The park features 189 acres of mature chestnut oak forest with nearly 6 miles of trails. You will experience a variety of wildlife and plants native to the North Carolina Mountains.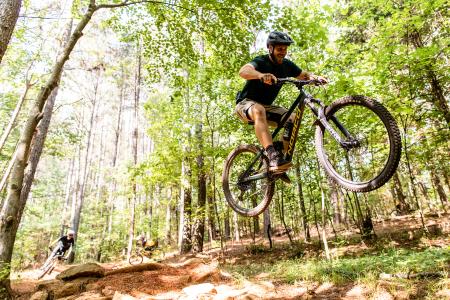 -Mountain Creek Park which opened in 2022 is located on the northwestern tip of Lake Norman in Sherrills Ford. This 606-acre park features an extensive 19.52-mile trail network and a host of other amenities including an adventure playground, a mountain bike skills course and tool stations, pickleball courts, a dog park, fishing pier, canoe/kayak launch, an outdoor classroom, an observation platform, picnic shelters and a paved ADA-accessible trail that winds through a quiet cove. Mountain biking is at the heart of Mountain Creek Park. Along with dedicated bike-only trails and endless route variations within the trail system, Mountain Creek Park is destined to quickly become a regional mountain biking destination.
Our New Year's challenge to you, as we start 2023 is to set goals to explore our trails, whether that's hiking and biking or arts, murals, and ale's - we have a trail for you to discover and enjoy! 
Happy Trails!