For the month of February, we encourage you to "Make a Date" with one of the trails here in the Hickory Metro. Rekindle that love that you have for the outdoors and take on a leisure picnic, hike, or ride in the quiet foothills. Plan a time this month to get out on the trails and show them some love. 
Pick your Trail/ Park: Sweet talk your partner into visiting one of our trails for a delightful adventure outdoors. Here in the Hickory Metro, we feature over 50+ parks with something for everyone. No matter what difficulty trail you are looking for we have several trails to meet your needs. 
*February Featured Hike: Bakers Mountain Loop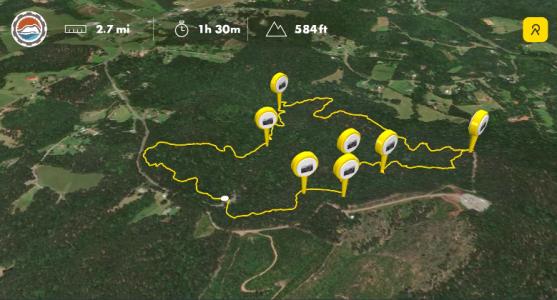 Hike Overview: Bakers Mountain Park is home to Catawba County's highest elevation point. This 2.7-mile route follows the park's outer perimeter, traversing through a chestnut oak forest up to the observation platform, passing various landmarks along the way including a crooked tree, a chimney, a gazebo, and numerous rock outcroppings. Stunning year-round views await at the peak, a breathtaking reward after a challenging though short climb. From the mountain top, the trail descends nearly 600 feet to the park's lowest point, then parallels a babbling stream that features a scenic water feature and a habitat that is home to a variety of plants, insects, and amphibians, before reentering a hardwood forest to complete the loop.
Pack Snacks: While exploring our trails or parks, plan to pack snacks and stay hydrated. Stop for a picnic along your expedition to keep your energy up and the positive vibes flowing. Snacks that will travel are essential to a hike and we have something that will be a little romantic too. Simply Jam'n Boards is a local business dedicated to serving you the best charcuterie board around. With thoughtfully selected meats, cheeses and nuts you are sure to be fulled up on your hike to the perfect view. 
Leave No Trace: We welcome you to explore our outdoor spaces while making it your nature to protect them. While exploring please remember the seven principles to Leave No Trace and take care of our trails. Explore responsibly!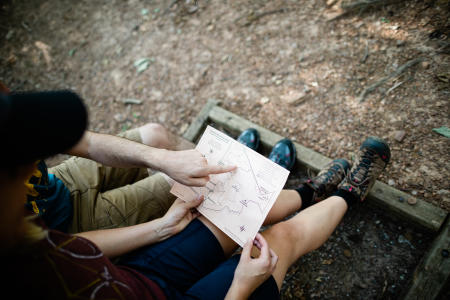 Plan Ahead and Prepare
Stick to Trails and Overnight Right
Trash Your Trash
Leave It as You Find It
Be careful with Fire
Keep Wildlife Wild
Be Considerate of Others and Share the Outdoors
To learn more about doing your part to keep our trails in pristine condition, click here! 
Bonas Adventure: After exploring the trails wind down at the Hickory Wine Shoppe. They have great appetizers for you and your partner to share while unpacking and decompressing with a glass of wine. Hickory Wine Shoppe has a large variety of wines for you to choose from. Cheers to exploring our trails and a few hidden gems. 
Relationship goals: After your long day, share your experience with us! We would love to be super jealous of your relationship goals, tag @visithickorymetro for a chance to be featured on our social media.