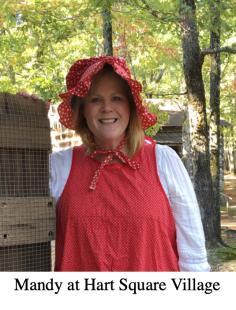 I am in love with our community – every bit of it and especially all parts of it that bring visitors to our community.  May 3 – 9, 2020 is National Travel and Tourism Week (NTTW) and even though the travel industry is one of the hardest hit industries due to the coronavirus (COVID-19), we will survive.  In these trying times being in the travel and tourism industry right now is not easy and in honor of our tourism partners - hotels, bed and breakfasts, attractions, local restaurants, breweries, wineries, distilleries, etc. - and knowing that we will get on the other side of this, I am choosing not to dwell on the loss of jobs in our industry and the temporarily closing of businesses as I am focusing on the positive and the people in our industry.  There is a resilient tourism partner group in our community, and we are like a family – we weather the storms together, we are tough, and we will overcome this trial and get on the other side of this "new normal" stronger than ever.
To extend NTTW more than a week, over the last several years the Visit Hickory Metro team had a "31 Days of May" campaign where we spotlighted faces of tourism in our community, an attraction, restaurant or activity every day in May that not only delighted locals, it also brought visitors to our community.  As part of this campaign we encouraged locals to visit these places and also reiterated that these establishments were vital to our economy. This year instead of an actual calendar with a list of activities locals can do each day, we will spotlight our tourism partners through social media in a special way throughout the month of May. 
This year we are releasing a new video that spotlights the entire Hickory Metro and you can watch it on the homepage of our website and on Visit Hickory Metro Facebook and Instagram. The team worked hard on this video and we hope it brings joy to each and every one of you as well as brings goose bumps on your arms – that is what it does to me every time I watch it.  In addition to releasing the new video and spotlighting attractions, we will highlight the faces of tourism – the workforce – because it is their authentic hospitality that keeps bringing visitors back to our community. While you are visiting our website, we also encourage you to check out the Hickory Metro Strong page that was created a few days after the pandemic as it provides information on how we are working together to get through this. 
When the time comes, and it will, we look forward to connecting with our locals and visitors at outdoor concerts, baseball games, at the racetrack, Furniture Mart sales, restaurants, festivals, petting sting rays at the science center, experiencing a new exhibit at the art museum, hiking up Bakers Mountain, fishing on Lake Hickory or Lake Norman, enjoying corn meal made at Murray's Mill, reminiscing of the simple joys of the old days at Hart Square, and the list goes on and on. 
Your Visit Hickory Metro team and fellow attractions like the Hickory Furniture Mart are part of Visit NC, the State Tourism Department.  I encourage locals and visitors to take time out this week and go to www.VisitNC.com  to "Experience Firsts that Lasts in North Carolina."  On the national level the U.S. travel industry, will spotlight resilience and hope in the face of the coronavirus pandemic with this year's theme: The Spirit of Travel.
The Hickory Metro is made up of four-counties and we work together and are stronger as a region.  Hickory proper is within Catawba, Burke and Caldwell counties with extra territorial jurisdiction (ETJ) in Alexander County, but visitors do not know city or county lines they just love all there is to do within the Hickory Metro, which is our community.  Today, I want to leave you with some fun facts and figures about tourism that do fall within in Catawba County.
In 2018, the last figures reported by North Carolina, there were 2,490 people directly employed in the travel and tourism industry.
Visitors spent more than $293 million dollars in the county in 2018.  
There are more than 20 hotels and bed and breakfasts in the county and that doesn't include registered airbnbs and vacation rentals.Check these out here! 
Hart Square Village in southwestern Catawba County, is home to the world's largest collection of log cabins from the 1800s.  
We have the second oldest art museum in North Carolina – the Hickory Museum of Art opened in 1944.
We have the second microbrewery in North Carolina – Olde Hickory Brewery that started in 1994. 
The largest attraction in Catawba County is the Hickory Furniture Mart, which welcomes visitors year-round from all over the world. 
Hickory is home to one of ten professional baseball teams in North Carolina, The Hickory Crawdads
Hickory Motor Speedway is often referred to as "The World's Most Famous Short Track" and the "Birthplace of the NASCAR Stars."
That's my love story about our community. This week, especially, during National Travel and Tourism Week I hope you find a love for our community as special as mine and we can't wait to greet visitors again soon!