In today's location spotlight we are highlighting Taste Full Beans Coffee. Tea. Cafe.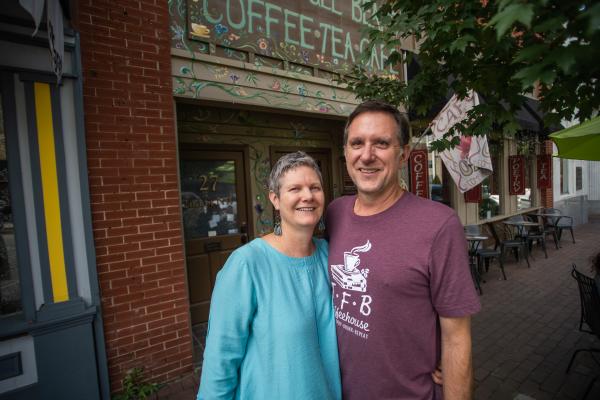 Located in the heart of beautiful downtown Hickory, TFB is more than just a coffeeshop - they offer a downtown haven that is warm, inviting, tasty and artisanal. We sat down with Scott & Julie, the husband and wife team that own and manage Taste Full Beans, to get a better understanding of how the concept of Taste Full Beans came to be, what sets this location apart and makes them a truly special downtown experience and also what the future looks like for Taste Full Beans. 
Q: Where did the idea of the location come from?  A: The Downtown area is the heart of Hickory and we knew we wanted to be a part of the hub of business and culture. We also live within walking distance of downtown so it felt like home to also own a business there. We care about what happens to our community and love being a part of this thriving and growing culture. 
Q: How long have you been in business?  A: We have been in business since 2001, over 20 years!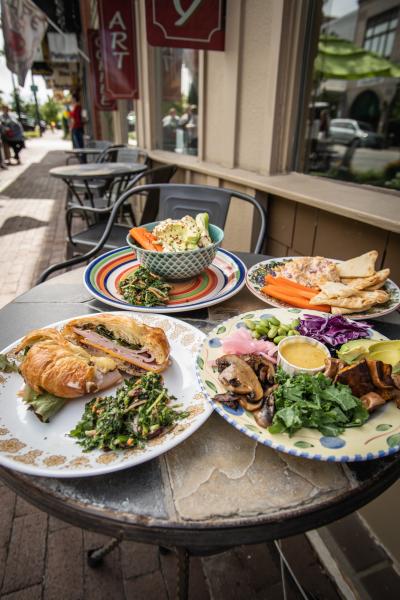 Q: Is there anything else about your location that is unique?  A: Our building is over 100 years old. It has character and charm and there is nothing "cookie cutter / modern or sterile" about it. We have a large chandelier hanging inside the café that dates back to the 1930s. Much of our flooring and even furniture was built or crafted locally, since we are in the furniture manufacturing capitol. We even have an 8 foot tall, 45 year old cactus!
Q: What is a hidden gem or piece of information about your location that you want people to know about?  A: We have a very large, diverse, scratch-made menu, much of which is sourced locally (or organically) and includes vegan, vegetarian, low carb and gluten-free options as well as traditional menu items. Our food selection also includes ice cream and our drink menu also includes a large selection of Teas, and we are also a part of the Downtown Hickory Social District. Being a part of the social district means we do carry some alcoholic beverages that can be purchased and taken "to-go" in a pre-approved labeled cup so that you can continue to enjoy your beverage and explore the Downtown area at the same time. 
Q: Are there any upcoming events or things at your location to be on the lookout for?  A: We have Poetry Hickory the 2nd Tuesday of every month. This event has been ongoing for 15 years and features both regional and local poets sharing their work. Taking a look around the coffee shop, Scott's poetry in on the walls and he even has a published book of his work that we sell in the café. We also support and participate in Downtown events such as Oktoberfest, the Art Crawl, City Walk Summer Stroll, the Holiday Cookie Crawl, the annual Holiday parade and many others. We love being in Downtown Hickory and the many events that take place that connect us to our locals and our visitors.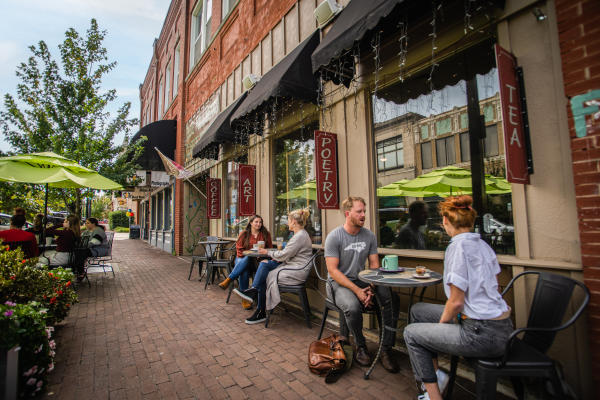 Q: Are there any other things that our readers should know about your location?  A: We have a beautiful outside patio that allows guests to experience downtown in a fun and up-close way and also allows us to be dog-friendly (outside dining only.) We are also within walking distance of a variety of boutiques and shops, the new Hickory Trail, (City Walk that connects Lenoir Rhyne University to Downtown Hickory and will connect to Lake Hickory once completed) as well as a wonderful children's park. We carry art, jewelry, paper crafts and more by local artists including books by local authors published by Red Hawk Press. We have an official Little Free Library on site to enjoy while dining with us! As mentioned before, we have Hickory's largest selection of both coffee and loose-leaf tea. Our coffee has been roasted locally by the same artisan for over 20 years. We source our tea from several reputable suppliers and our prices cannot be beaten (even on the internet!). 
For more information on Taste Full Beans visit their listing here. If you're planning a trip to Downtown Hickory be sure to add this as a stop on your itinerary!