Fall is in the air, the weather is starting to cool and the leaves are beginning to change. Fall brings events, such as fall festivals, pumpkin patches, hayrides, tapping picking and spooky adventures. If you are trying to plan your last minute fall adventures, here are a few ideas to get you started. 
🍁Fall Festivals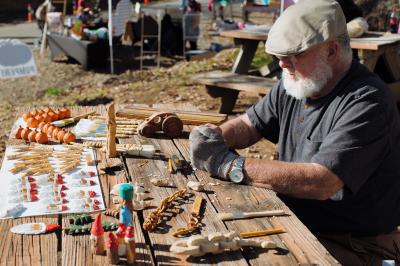 ▪️ 38th Annual Murray's Mill Harvest Folk Festival is September 24 & 25 10am-5pm. The Murray's Mill Harvest Folk Festival celebrates Catawba County's agricultural heritage with an array of exhibits, craftsmen, and activities. For example there will be antique cars, tractors and farm machinery. See traditional food preparations such as molasses making. Bluegrass, Country, and Gospel comprise the impressive band schedule, the Cockman Family hosting musicians and audience in the Murray's Mill Amphitheater. Included in the ticket price ($10 at the gate) is a tour of the mill, whose original French burr millstones grind away producing bags of flour and cornmeal.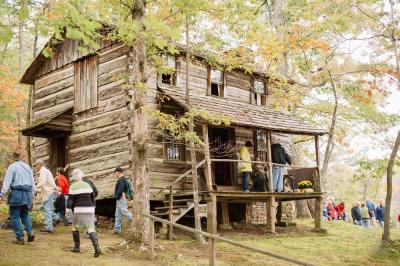 ▪️ Hart Square Village's 37th Annual Living History Festival is October 22nd 10am-5pm. This festival focus' on preserving and keeping traditions alive. One of the best-kept secrets from the Hickory Metro region, Hart Square Village, is home to North America's (maybe even the world's) largest collection of log structures from the 1800s. The village is truly hidden in nature and has been kept that way through the years to preserve the sacred space that preserves the history of this part of the Appalachian's. We look forward to seeing the hundreds of volunteers, docents, and descendants of families join together to time-hop back to the 1800s. As you enter the metal gates, you are sent back to a time when horses led the way for transportation, farming, and everyday life. The sound of the washtub bass and the saw (think fiddle bow and bent saw blade) ring through the air with traditional Appalachia music. Local potters, specializing in Catawba Pottery, throw pieces all year to be able to fire their masterpieces in the authentic underground kiln - a true and rare opportunity. The only working cotton gin in the Southeast is located on the property along with an authentic cotton press, blacksmith, printing press and print shop, many original family home places, and more. A unique and eye-opening experience to the way things truly were in the 1800s - there is no other experience like it. 
▪️ Mulberry Creek Farm is hosting an Autumn Artisan Market October 22 & 23 from 10am-5pm. They will have lots of artisans demonstrating their skills and offer their wares. You may find unique treasures along your way while savoring your favorite food and beverages, and delight in the live music performances. Artisans include woodworkers, artists, blacksmiths, jewelers, and many more. Please Note: This is an outdoor market, please dress for the weather. Leashed, friendly dogs are welcome.
🎃Pumpkin Patches, 🌽Corn Mazes, and 🍎Apple Picking:
▪️ Devine Farms located in Newton, NC presents Fall Fun on the Farm! Open Sunday-Friday 2-6pm and Saturdays 10am-5pm. Play in the pumpkin patch or work your way through their corn maze. Wagon rides (weekends only) are a great way to see all the farm has to offer.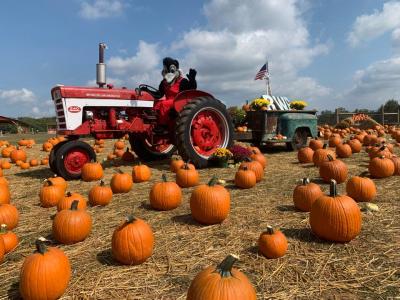 ▪️ Red Wolf Farm, open in October on Saturdays and Sundays, has a slew of autumn activities for you to choose from and they are very kid friendly. You may ride their hayride as many times as you like. If corn is your focus, they feature two corn mazes, one that is a Pro-Designed Corn Maze and one for the kids. Oh, and you can "Swim" in their giant tubs of Corn. Try your skills at Pumpkin Bowling or see the fun farm animals. There are also artisans working their craft that you can watch while visiting. Red Wolf Farms has a picnic area where you can enjoy some food from their food vendors, or you can bring your own picnic lunch. Grab a drink or snack with their in-house concession stand, The Thirsty Wolf. Check out the Red Wolf Farm to create memories to last a lifetime.
▪️ Apple Hill Orchard & Cider Mill is a fifth generation owned and operated apple orchard. Visit the orchard and purchase pre-picked apples, or pick your own! Not only can you get apples, but they have a bakery with "Farm Fresh" takes on a new meaning once you try one of our made-from- scratch bakery items. They sell donuts, pies, cakes, breads, brittle, and more!  After visiting their bakery stop into the market, featuring apples, fresh apples, cider, honey, gourmet food, gifts, just to name a few things.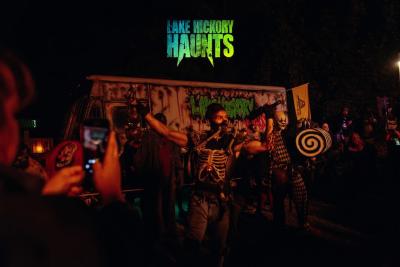 🧟‍♀️ Bonus: If you are looking for something a little more scary, you should definitely visit Lake Hickory Haunts. Known as the best haunt in the Carolinas, Lake Hickory Haunts is a one of a kind haunted theme park; featuring a large body of water, surrounded by 13 unique haunted attractions. Throughout these attractions, guests experience awe-inspiring immersive environments, multi-dimensional special FX, and breathtaking scares. If you're a fan of haunted attractions and thrilling experiences; you don't want to miss the 2022 season of Lake Hickory Haunts!