Hickory Happy Hour - Quarantine Edition from the safety of your home. 
Happy hour sure looks a bit different these days in Hickory and across the US. We are all practicing our social distancing and staying home as much as possible which goes against some of our usual habits of socializing and getting together with friends and family over a beverage, coffee, dinner etc. We are all struggling to find ways to maintain a "new normal" and we are all trying to support small businesses as much as we can during this economic hardship.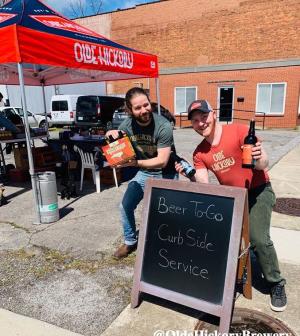 Restaurants, Breweries, Wineries and more have all closed their doors for the time being to dine-in, drink-in, taste testing - you name it. However, most entities have rallied to try and think outside the box and offer services that they may not have offered before to keep the doors open, food cooking and beverages "flowing."  
With some help from our partners in the community we have compiled some locations that you can still receive curbside pickup of your favorite beverages throughout the Hickory Metro to help support your "At home Happy Hour."  We are also going to begin sharing on our Instagram & Facebook - #ThirstyThursdays locally sourced beverages and even some "local guests & Mixologists" who will be helping to make some of their favorite drink recipes for you to make at home.
Current offers:  
Olde Hickory Station - Adult Lunchables available at - $20! Also selling mixers and other items in the market area of the store!
Olde Hickory Tap Room - Food specials and a Netflix and chill at home special that includes: wings and a 6-pack of your favorite OHB beer for $20! 
Amos & Howards - wings and beer to-go specials
Fourk - Wine available at Wholesale price
Olde Hickory Brewery - Curbside Pickup (in the parking lot) most days from 12pm-6pm 
Catawba Brewing locations (Morganton, Charlotte & South Slope)  are offering curbside pick up! 
Granite Falls Brewing - limited to-go menu but take-home growlers and 4-packs
Craft Beer Celler - Inventory for today, available for to-go and delivery! - 20% off Crowlers and Growlers | 20% off wine and sake | 10% off mixed 6 packs
Hickory Wine Shoppe - pick up your favorites to-go! 
Catawba Farms - Food, cider, beer and wine to-go! Check out the hours
Fonta Flora Brewery - online ordering of your favorites is available and also curbside pick up
Carolina Vines - use call ahead and pre-order your favorite charcuterie and/or cheese board to go along with your favorite wine selections
Hops & Grapes - growlers and wine to-go! 
Blowing Rock Brewery & Draft House - $6 six-pack with your order
Charolais Steakhouse - Date night special - includes your choice cut steak (2), one large garden salad, baked potato (2),  brownie chess pies (2) and add a bottle of wine for $18 - call or go online to pre-order! 
Tasty at-home recipe - give it a whirl: 
1.5 oz Seventeen Twelve Bourbon
1 oz Tawny (Port Substitues - Chianti, Zinfandel, Syrah, Shiraz, Merlot)
0.5 oz Simple Syrup ("Simple" to make - Just boil equal parts sugar and water until they liquify together)
0.5 oz Fresh Lemon Juice
House smoked ice cube (optional)
Add ingredients into cocktail shaker with ice. Shake well. Strain over (house smoked) iced cube. Garnish with lemon peel. 
**If you are missing the social interaction aspect; don't forget to try out Zoom, Google Hangouts, Skype, FaceTime and other video conferencing software to share a virtual drink with your friends and family members. Remember, we are all in this together - lets support one another by sharing a drink virtually, knowing that one day - hopefully soon, we will all be able to return to our social gatherings and support one another in person. 
Please drink responsibly and stay safe - at home other than essential trips for food and beverages! 
#cheers