Dig in to learn all about how Mica Town Brewing started, how they pivoted during a pandemic, and how awesome it is to be the first craft brewery in their county (McDowell)! Oh, and let's not forget they are a part of 13+ breweries on the Catawba Valley Ale Trail. Here's their story: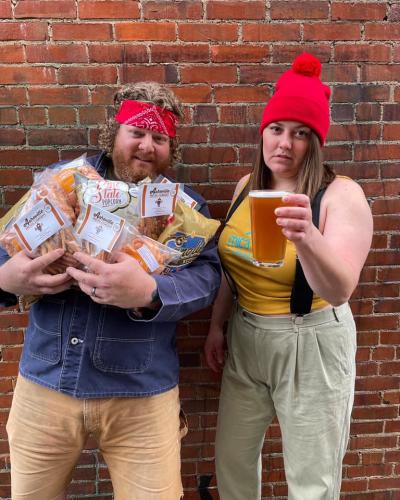 Katherine: Tell me a little bit about yourself, what's your name, the brewery that you are with, and what is your role is here.
Emily: I'm Emily Causey and along with my husband Jason Snyder, we own Mica Town Brewing in downtown Marion. Jason was a longtime homebrewer and left a mining engineering job to start a brewery. I have always worked in hospitality and event services, and we got a harebrained idea to open up a brewery so here we are.
 
K: Why did y'all decide to start a brewery?
 
E: We moved here (to Marion) in 2016 and I am a craft beer lover and Jason was a homebrewer, and we found ourselves 25 miles from a brewery so it was either from Morganton back up to Black Mountain where we had moved from or heading north. At that point, the city was also kind of vocal that they were looking for a brewery and we were naive enough to think that that would seem like a great plan to start commercial brewing. So this is our first stab at small business life and, you know, that's kind of how it all started, it was just this sort of landing here not knowing much about the city of Marion, having been a homebrewer and the city looking and this felt like maybe you could do that. 
 
K: You're filling your own needs of having a brewery.
 
E: Thankfully other people have come along now so we have a place to go as well.
 
K: Tell me a bit about the history of the brewery, when did you open here and how have things been since then?
 
E: We opened on New Year's Eve of 2017, so we've been here just over three years. We opened when lots of things were starting to happen in downtown Marion.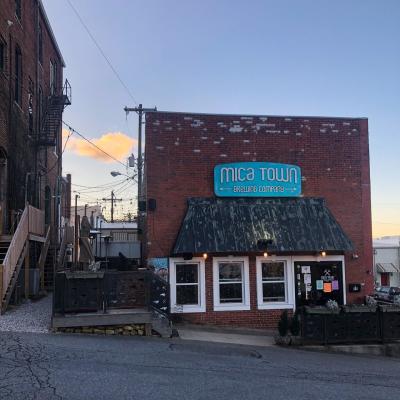 We got our first taproom and our first music venue as well as more restaurants, so 2017 was a transformational year for downtown Marion. We opened with one full-time Brewer, my husband, and a couple of part-time bartenders. Today we have four full-time staff and a handful of part-time people. Things were chugging along great, until about a year ago when the pandemic started, but honestly, our community stepped up and supported us. We transitioned to selling beer to go only. We don't bottle and can so we were selling growlers or crawler fills for a long time. We learned a lot and now we sell beer online and people can place their order ahead of time and walk in the door and the bartender will hand it to you. It's kind of a crazy concept that we thought we would never in a million years do. But we implemented that a year ago and it's still in place today.
 
K: Do you think it will be a permanent fixture?
 
E: It is easy enough to manage with our POS system so it's there and it kind of runs itself and so that's great. We have people that place an order every week a couple of times a week and they put in an order then walk in the door, we recognize them and hand them their stuff and they leave, or they call from their car, and we take it to them. It's definitely not the volume it was a year ago, but it's still happening we are happy to give people that option. We have an exchange program, you bring us in your empty growler and leave with the full one, with whatever you've ordered so it's ready to go.
 
 
K: What is your thought process when coming up with new flavors and styles and what do you think about when you name your beers?
 
E: We try to connect them to something local, or a local event, or a person. Almost everything on our board has a particular name for a reason. Most of them will be areas around McDowell County, or landmarks. In terms of styles, our board changes pretty regularly, half of it was kind of dedicated flagship beers and the other half is all seasonal stuff. It's kind of what our community demands since we were the first craft brewery in the county. We've done a lot of beer educating as well. We've had some people you know who are very honest, they come in the door and they're like, I drink Bud Light, what do you have that I will like? When you know your clientele and can ease that tension by making them feel comfortable and showing them there is something here that they'll like, then they start to trust you and will try new things.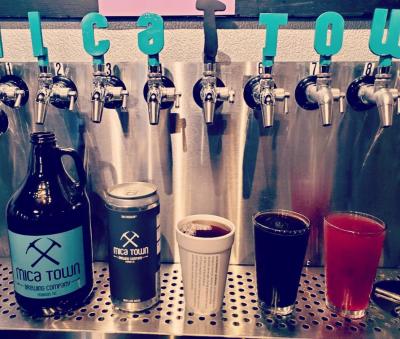 So we've used that opportunity to give people a sample of something different that will expand their horizons. We've learned that you make beers that people want to drink, not necessarily what you want to drink as a brewer. We try to keep a wide variety so people can find something they will like and we have created our brewing system to allow us to be flexible to meet that need. It also allows us to let our brewer have more autonomy and make what sounds interesting to her. She researches some historical styles and that sort of thing but based on what is available malt and hops wise it allows us to change based on interest and availability. It is a pro and a con sometimes for example-- we never have the same IPA on tap, they rotate seasonally or throughout the year. Because we're so small, finding particular hops can be a challenge for us, unlike some big breweries who contract with these hop growers for 70 pounds of whatever a year. We get whatever's left, we may make something that people love, but if that hop is done for the season we can't make it again until it's back. Sometimes being small does lend itself to kind of being creative in that sort of way and then other times you're forced to do make decisions based on availability which you don't necessarily have with larger breweries. Our customers understand that though and know when they come in if it's been a few weeks, the board might look very different since the last time they were in. It also gives them something to look forward to when we do seasonal beers and bring back old favorites.
K: I know your husband is the brewer so you may or may not know this but what was the first beer he brewed, either homebrewing or at Mica Town, and what was the reasoning behind that choice?
 
E: I have no idea what his first beer as a homebrewer was but I remember our first beer here at Mica Town. It was based on the equipment that we had at the time. Our equipment was delayed so we could only make lagers before the opening. We had no idea how long it was going to take for the rest of the equipment to come so we decided to just make 2 beers and a lager that could have time to age the way a good lager should. We made a winter lager, that was light in color with kind of those Christmassy winter spices in them, and then a dark lager. Those are the very first things we brewed and we were able to bring them back this past winter which was neat.
 
K: What is unique about your beer here at Mica Town and the experience that you have here.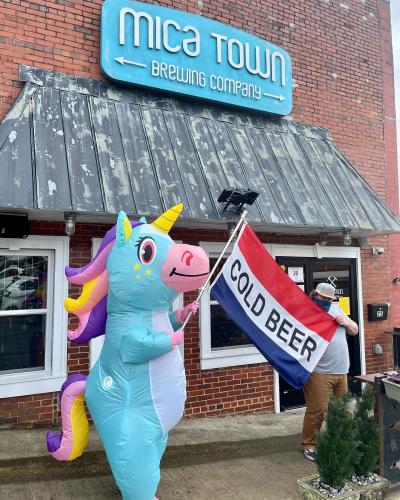 E: I would say our experience is unique in the fact that our main goal was to create a community space. Having just moved into the community, there wasn't a whole lot going on and we were determined to create an open space for people to feel welcome, whether they drank beer or not, whether they were over 21 or not. We wanted to create an interesting environment for people to get to know their neighbors. Mica Town is a reflection of us as people, we're weird, vintage collectors and so you can walk in and see a collection of things up on the walls, our own growler collection is a decoration. We just wanted it to feel like us and like home. We are dive bar people, you know, kind of a little sketchy-like, dark, kind of eclectic bar that's been around forever is kind of place that we seek out when we're traveling, and we wanted that same sort of feeling for a brewery. Something that just felt comfortable and that you couldn't hurt but it was clean. That's kind of what we've created here. Jason, my husband, has previous life in the mining industry, he was a geologist by education, so the name Mica Town just kind of came from his love of rocks. There's an old Mica mine in McDowell County near Toms Creek Falls, one night we were just like throwing things against the wall and Mica Town stuck. There are interesting things, like a goldmine map in the bathroom, which point back to the mining culture. It's also fun because people that have grown up in western North Carolina all have a story or memory as a kid about finding mica. It is super shiny and peels apart so it catches your eye. People will bring us chunks of mica that they find which makes it lots of fun. Apart from that, I think our biggest thing is just to support the economic development that's happening in our region. We strive to be engaged in our community, and not only because we live here and this is our home but because we want to support the other businesses that we share our downtown with. By doing so we hope to strengthen this area, both for its natural resources, and its economic ones so that people that are moving here and people that come to visit here, are seeing Marion represented positively.
 
K: What steps do you take to give back to the community and/or the environment?
E: We do whatever we can since giving back is such a big part of our business model. We brew beers and partner with a nonprofit to donate $1 of every pint sold back to the organization we're supporting. Jason is a veteran so each year we do a veteran's beer where $1 goes to a local organization supporting veterans. We are also big supporters of pink boots, a national organization supporting female brewers. We have a female brewer, and we do fundraisers for them. Then there are just small things that pop up so like McDowell Trails Association, or whatever or whoever else is in need is at the time. That's the benefit, or the beauty of downtown Marion is that businesses in general rally around particular causes when it's there and try to include as many people that want to be included so that it is a community effort. In terms of the environment and sustainability, our biggest thing is that we partner with a wonderful cow farmer out of Sugar Hill, who has gotten our grain every day since we started. He doesn't miss a beat, and his cows love the grain. We go through about 1,000 pounds of grain a week so it is great to know that it is going somewhere good. It saves the farmer money and he takes care of a trash need for us so it is a great relationship. We also work with McDowell County farmers and so they help us kind of source ingredients that way. We just try to do the best we can, for example, you very rarely will find us serving up plastic cups so we try to keep waste down as much as possible.
 
K: I didn't know that you had a female brewer and being a woman, how is that in the brewing industry? For a long time, you didn't see a lot of women and so it's great to see more of that.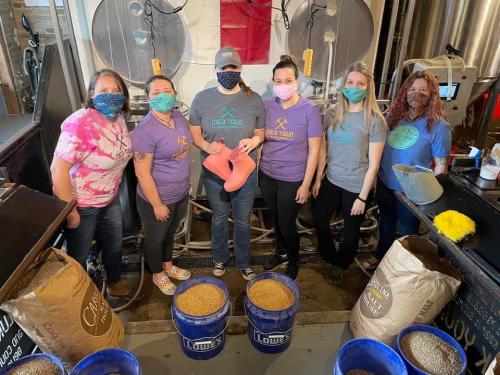 E: We've just had a Pink Boots, Asheville meetup, our very first one in person since COVID and there are very few women, especially in the production side, in the Asheville region. There are programs in our area for fermentation science, and most of them are dominated by men as well. My understanding is even the women that get trained here have a really hard time getting hired. Many of them end up moving because they can't find a job. Courtney, our brewer, was a bartender for us. She had a corporate job and she left and was interested in learning how to brew. Jason is self-taught as a homebrewer and he turned around and taught her so it's interesting, we don't have anyone here who's ever done any sort of formal education in brewing. Jason fits the stereotype of a burly white dude with a beard, and so it's not surprising that he's a brewer, but people are kind of shocked when they meet Courtney and, you know, that can suck some days. People don't want to talk to her, they want to talk to him, but we remind them that she made that beer, so you should talk to her. It is a constant struggle but I do know there are other women working in the industry and it is worth the work to stand up for them so hopefully there will be more.
 
K: Thank you for taking the time to meet with me, it was great talking with you!
For more information on Mica Town Brewing or the Catawba Valley Ale Trail click here.