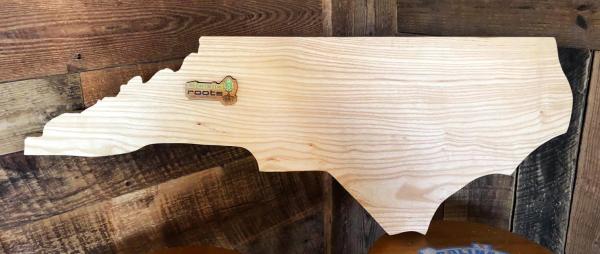 Having a strong root system is what gives Liquid Roots such a special place in the Hickory Metro Community. Being only a few years old this start-up brewery is bringing a lot to the Lenoir area. After hearing their story you can grab some friends and paw-pals for a fun night out at this small but mighty local hot spot on the Catawba Valley Ale Trail. Here's Liquid Roots' story! 
Katherine: Tell me a little bit about yourself and the brewery, how y'all got to Lenoir and started Liquid Roots.
Katie: Liquid Roots is a family business, my husband's a brewer, my brother and sister-in-law are the other two owners. We were living in Indiana, my brother was living in Tennessee and we had been looking for a place to start a brewery for about five years and never really found the spot that we knew was the spot. My husband has always wanted to be in the mountains and was looking online one day and saw this building for sale. We loved the outdoor space and saw that Lenoir didn't have a brewery so it all lined up. My sister-in-law and my brother and my husband came that week to look at the building, then the next week my husband and I bought it and moved here a month later. It was just a feeling that this is the right spot.
Katherine: So you all were already brewers before that?
Katie: My husband has been a homebrewer for a long time and we had been putting together a business plan for several years and saving money for the right time to start a brewery. Lenoir seemed like a town that had a lot of potential in that it was small but close to a lot of things with growth. We wanted to be in a community where we can have an influence and be involved, and our kids could be involved. We wanted to not only own a business here, but we also wanted to find a place we could feel at home and we have found that here in Lenoir.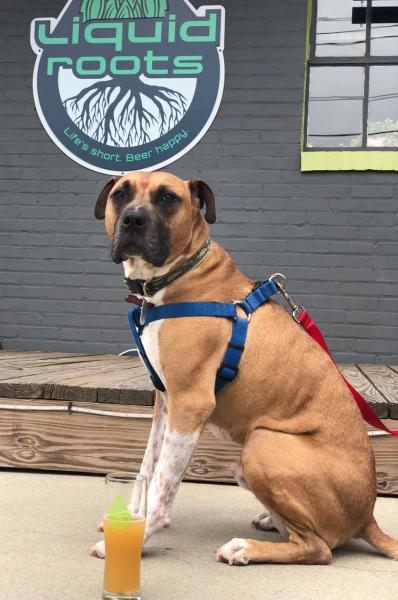 Katherine: I just spoke to Mica Town in Marion and they started a brewery in a town that did not have one and it became a catalyst to other things opening in the downtown area. I have seen that here in Lenoir as well, the brewery started to turn some things around here. It serves as a place where people can come relax after work or on the weekends without having to go out of town. So many people need that kind of oasis and you all provide that for Lenoir. 
Katie: Exactly. We are family-friendly and dog-friendly so it is a great gathering spot. Probably the best thing we hear from people is that Lenoir was always needing someplace to just go and gather and meet with friends so we are happy we can provide that.
Katherine: So why did y'all decide to get into brewing and venture into making craft beer for a living? 
Katie: We all just love traveling to breweries, we love beer and we love the experience you get when you go to a brewery. You may go by yourself, you may go with your husband but you're always going to meet somebody else there. Nobody is shy about talking to you or upset if you end up sitting around their table. Liquid roots comes from a saying my husband always says: "We have liquid in our roots and roots in our liquid," I guess meaning they're just both, one of the same. Our family, our friends, our beer, it's all part of this. Every time we go anywhere we're always searching out breweries just for that same thing, a place to unwind and unplug and just be there in the moment. My husband was brewing for about 12 years at home while he worked a very fast-paced corporate lifestyle. That's never been either of us but it was a great way to save money and to support our family and just give us time to get started.
Katherine: Tell me about the history of the brewery, when did y'all start and how long have you been brewing here?
Katie: This past March was our two-year beer-aversary. We opened in November of 2018 as a taproom, because we were waiting for our brewers permit. The government shutdown occurred during that time which made the permit process take a little bit longer than normal. We finally got the permit in February and were able to start serving our own beer in March, so it's been two years now. Yeah, and we were just doing well, having a lot of momentum getting new people in and people hearing about our name and then COVID hit. COVID was a challenge but I feel like we have made it through and it will be up from here, especially with the summer months ahead.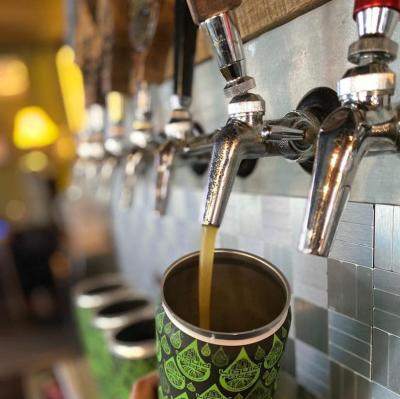 Katherine: How did you all have to shift during COVID?
Katie: Being a destination spot, we only serve in our taproom, which has always been our business model but with COVID we had to start creating some ways to take beer home since it couldn't be consumed on-premises. We have a really small system so figuring out if we needed to change our business model was a difficult decision. We opted to get a crowler machine so people could take beer to go but we didn't have to increase our production or get into canning. It has gone well because of our loyal customer base and now we are getting ready to upgrade our system to double our capacity in June. We might look into some canning once we get the new system going so we can get our beer into bottle shops and start getting our name out more.
Katherine: That is very exciting! How many employees do you all have?
Katie: We have the four of us owners and then we have one bartender. Alisha. She is amazing. We met her shortly after we moved. Our kids went to the same preschool and she just moved down here from Michigan so we just became friends. She was a stay-at-home mom and offered to help ever needed her. We asked her to help on our grand opening and then two years later she's still the only employee. She is the kind of family now, there's not a lot of people that you can bring into a family business and feel like they seamlessly fit in and love the brewery as much as we do. She is a great and awesome person and we were lucky to find her.
Katherine: What is your thought process when coming up with new flavors and styles and also how do you name your beers?
Katie: My husband's a brewer so he has a ton of crazy ideas in his head, he's always reading beer magazines, and we always get ideas from the latest trends. Sometimes we base things off of what we're eating that day. We always have certain mellow styles that anybody would want to drink like people that are Coors or Miller Light fans. We don't ever serve any domestic beers, only craft, so we always have like a cold Shawn, or freedom which is our Scottish ale that will please most people. We don't wanna be pretentious about beer, we want everybody to be able to enjoy it. Since we are in a small town we also do some exciting beers, which is always a good way to get people to come out regularly for releases and events. To bring crowds of beer enthusiasts here we keep it fun by having things like our nerd sour made from the candy or our unique Hazy IPAs. The goal is to just keep things interesting and exciting. As far as our names, all of our beers have a movie reference in the title. Freedom, the Scottish Ale is from Braveheart, Slap Hands is from The Waterboy, Snoop U Loop is one of our Hazy IPA's and that is from Kicking it Old School. Get Off the Juice is from 50 First Dates, which is my favorite movie. We just have fun with it. Sometimes the movie reference comes first and we want to make a beer to fit the reference, sometimes we have a beer and find a film reference based on the ingredients. It is fun because sometimes customers get the references, other times we tell them the reference then they go home and watch the movie. We have a good time with it.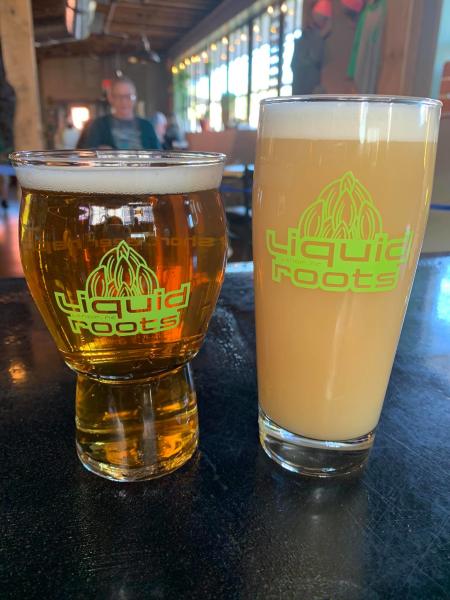 Katherine: That is so fun and unique. Is working at and owning a brewery different than you thought it would be, if so how?
Katie: It's honestly about the same as I had pictured. I love every aspect of it like working with my husband and brother and sister-in-law is so much fun. I knew I was gonna be away from home a lot, I had been a stay-at-home mom before so that adjustment took some time and even now I find myself working when I am at home with them with social media and events. I am getting better at balancing though and love my job so it is all worth it.
Katherine: What is unique about your beer?
Katie: I guess there's not a lot of people around here that do, super hazy IPAs. We love beer from Knoxville and Asheville but in small towns around us, we don't see as much of it. We have big and bold beers, it's something we're into, and although it's not everybody's cup of tea some people seek out those beers. We are also not afraid to try things, if the beer fails, we just don't serve it, which is a great benefit of being small. We will always keep our small fermentors and my husband's small-batch kit for that reason. We are always pushing ourselves to not be stale. We started roasting our own coffee beans which we use in a lot of our beers. We recently got bees so we can put our own honey in our beers too. We try to do as much as we can in-house and local to be unique and help the environment. We have a lot of friends that grow peppers so we try to use a lot of those in our beers too. We can usually always have a spicy beer on tap made from peppers people just give us to use.
Katherine: How is your beer connected to the Catawba Valley region? I think it's so neat that people just give you peppers and things from local gardens that aren't necessarily farmers, it a hobby that is fun and says a lot about the community here.
Katie: One of the beers we did last year was from a guy that works in the community garden, we have used his plants and some of his honey from his bees in our beer. Someone just gave us some oregano so we're gonna plant this and use it in something.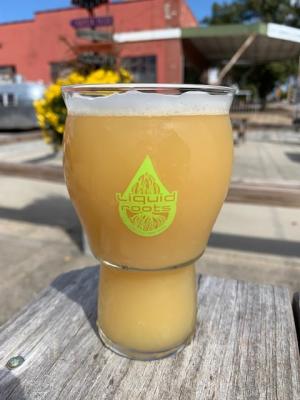 We also have a food truck that's here Wednesday through Saturday during our hours. They try to use as much local food that they can get. We give our grains to a farmer in Hickory, and he feeds it to his animals and then our food truck gets the beef from him. The meat is amazing and we like that it's local. 
Katherine: Last question, what steps do you take to get back to the community and or the environment.
Katie: For the community, we try to do several fundraising projects a year, we try to do one about once a month, giving back. We've been doing blood drives with Blood Connection and a lot of times they'll have a $10 donor card that the donors get, then $10 goes to a fundraiser of our choice. On Wednesdays, we have our open mic night, and every other month we choose a children's music education program to raise money for so a lot of times we used to do like $1 of our beers go for whatever charity or nonprofit we chose for that day. This Saturday we have an event we teamed up with Anytime Fitness for. People are doing an obstacle course and the money from the registrations will go to the Robin's Nest which is the Children's Advocacy Center, across the street. They're having their afterparty here, and a dollar per beer that whole day on Saturday will be donated to Robin's Nest. We are so thankful for this community welcoming us in that we want to do what we can to help.
Katherine: That is so great. Thank you for taking the time to meet with me today! It has been great getting to know you.
For more information on Liquid Roots or the Catawba Valley Ale Trail click here.