It's time to get outside and get your blood pumping, whether that means taking a hike in our beautiful mountains or mountain biking at one of our local parks. We have miles of trails for you to explore right here in the Hickory Metro. Follow along with some of our local experts for the best places to hike, bike, and where to find all the best gear locally here in the Hickory region. 
River Bend Park: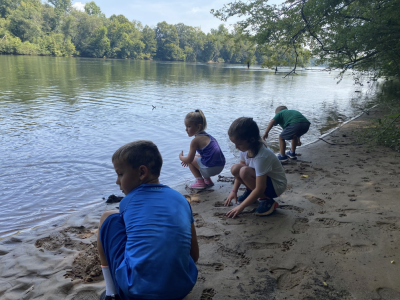 Located in Conover, NC, my beloved hometown, is River Bend Park, a local favorite for our crew, and in my opinion, the jewel in the crown of Catawba County's Park System (although some may argue with me!). There's stiff competition around here –did you know we rank 1st out of 100 North Carolina counties for number of square miles of green space per capita? Get outside and enjoy them! This park spans 690 acres, including just shy of 20 miles of hiking trails. Adjacent to the main parking lot is the Park Ranger's station. Before you set out on your hike, I recommend chatting with the Park Ranger and grabbing a map which can also be downloaded. They can give you advice on which trails to follow based on the scenery & length you desire. I always recommend packing enough water & snacks to take a few breaks along the way. Our crew loves the Red Line which runs parallel to the Catawba River shoreline for over a mile. Keep your eyes peeled for animal tracks – we spotted racoon, deer & heron during our last visit. We typically combine the Red Line with another overlapping trail to put in around 4 miles, which is just enough for the littlest in our pack. Skill level: 1-5 (1 being the easiest - 5 being the most extreme)  I would rate the trails a 2 in difficulty.  These trails are perfect for the littlest hikers. You can always increase the difficulty by lengthening your trip. Plan your visit to River Bend Park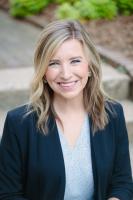 Guest written by Lindsay Keisler, she is a passionate non-profit executive with an entrepreneurial flame who loves her community and thrives best when convening people, influence and resources to get things done for common good. Her day job as President/CEO of The Chamber of Catawba County is big part of her lifework, but her favorite titles are "Partner in Life" to husband Corey and "Mama" to her two sons. You can find them most often playing at a local park, riding our bikes downtown in our little town for a coffee, wandering on hiking trails in the Blue Ridge Mountains, making wake on Lake Hickory or at home catching up about the adventures of the day around the dinner table.
Broyhill Bike Trail at Geitner Park:
I rode Geitner Park before it was actually an official bike trail. The renovations and adjustments they have made to it now in  what we call Lake Hickory Trails are just incredible. It is 9 trails in all, covering 8 miles. There is the Spring Loop to get your beginning kids on. There is the Broyhill Loop for the more advanced and people that like to test fate, there is the Jump Line. It's a great workout, with wonderful scenery. Bring your kids for a day of biking or picnic by the lake.  If hills are not your thing, just take a nice little cruise on the greenway. This place is already tremendous. With the expansion of City Walk and the Deidra Lackey Memorial Park being constructed right next door, the value of a day in Northwest Hickory will only double its weight in gold. It is a must ride, but bring some water.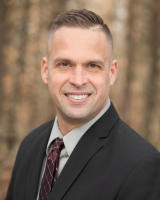 The hills on Broyhill can work you. 
Spring Loop - Skill Level 1 (Easy)
Broyhill Loop - Skill Level 4 (More Difficult)
Garrick works in Film, Television and Video Production and lives in the Conover area with his wife and five kids. He produces an outdoor adventure video on the internet. You can see episodes at www.tablerockcreative.com
For some other great parks and trails you should check out: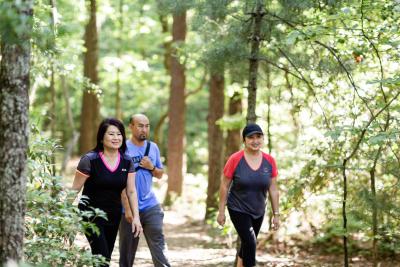 Bakers Mountain Park is located on the highest elevation point in Catawba County (1780 feet). The park features 189 acres of mature Chestnut Oak forest with nearly 6 miles of trails. You will experience a variety of wildlife and plants native to the North Carolina Mountains.
Rocky Face Mountain Recreational Area: Former Rock quarry area includes a paved ADA walking track as well as a picnic shelter. The quarry area features a sheer cliff face which is attractive for qualified rock climbers. The park includes approx. 5 miles of hiking trails.
Fonta Flora Trail: A fun, beginner, well-maintained double-track trail with beautiful scenery and views of Lake James. The trail will ultimately circle Lake James. As of April 2019, more than 20 miles of trail have been completed, including a scenic-covered bridge near the Linville Boat Access. This trail is also pet-friendly.
Gearing up for your hike or bike ride, stop by one of these local locations for all your outdoor adventure needs.
Outdoor Supply Company sells products for all of your hiking, camping, backpacking needs. In addition, they keep a wide variety of kayaks and canoes in their inventory.
Carolina Pedal Works is a full-service bike shop with custom bike building, community rides, beer on tap, accessories, and more!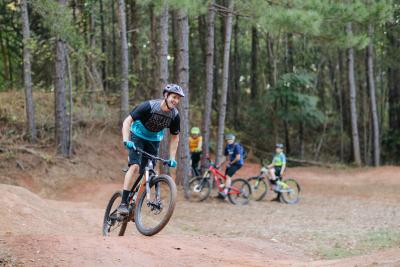 Rock N Road Bicycles is a custom bike show who also sells clothing and accessories for your next ride. They are an Exclusive TREK bike dealer for the Hickory metro area. Last but not least, they also do bike maintenance and repairs. 
Lightning Cycles: Bicycle Shop is your one-stop-shop for any bike needs. Whether you're a trail rider, gravity thrill-seeker, 'cross aficionado, or seasoned road racer, Lightning Cycles is there for you. Their goal is simple: to give every man on the road the best equipment possible. That's why they are continually developing their approach to designing the world's best bike products, and the proof is written on every podium, from Doha to Val di Sole.
Velofix (Charlotte Metro area) is a mobile bike service shop. If you need your bike serviced but don't have time to take it anywhere, call Velofix to schedule your next bike servicing appointment. 
Hickory Velo Club: As a club, they do organize bike rides. They want to bring all people together who have a common interest and passion for cycling in a safe and welcoming environment.
Good luck on your adventures, and for even more outdoor adventure ideas, click here.