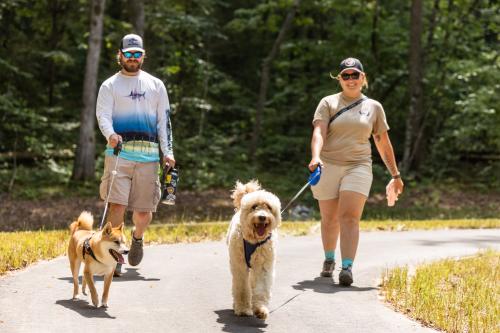 Catawba County's New Mountain Creek Park: The Reviews Are In…
"A jewel..." 
"An adventurers' playground…"
"A Catawba County treasure…"
In the short time since its June 2022 opening, Catawba County's newest outdoor destination, Mountain Creek Park, has already been getting rave reviews. Situated 34 miles northeast of Charlotte, N.C., on the northwestern tip of Lake Norman, this 606-acre park with nearly 20 miles of trails and a host of other amenities has quickly become a favored destination for outdoors enthusiasts – as demonstrated by the many positive reviews that continue to be shared by park visitors.
 "We do a lot of mountain biking, and this is the best!!"
Mountain biking is at the heart of Mountain Creek Park. The park's 19.52-mile multi-use trail system was designed to optimize mountain biking and consists of interconnected loops that range in difficulty from "easy" to "intermediate" to "most challenging." Riders can also hone their skills on a 1.2-acre pump track comprised of a sequence of rollers, berms and banked turns, and a companion "tot track" is available for beginning riders to learn, practice their balance, and improve their confidence on a bike. The park's technical, single-track trails, several of which are bike-only, cover diverse terrain and include rock jumps, table tops, steep downhills and sweeping turns – providing endless route combinations for the biking enthusiast.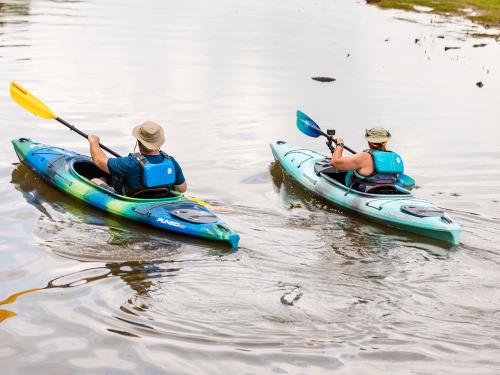 "Mountain Creek Park is such a peaceful and beautiful place to paddle. There is so much wildlife and birds to see!" 
Named after the creek that winds through the park, Mountain Creek Park is nestled along a cove on Lake Norman, the largest man-made lake in North Carolina. A paddle launch invites paddlers to put in their canoe, kayak or paddleboard to adventure into the park along Mountain Creek or float out into the lake. At the inlet, low-water mudflats provide habitats for shorebirds, wading birds, river otters, beavers, turtles and more. A short paddle into the northern section of the park reveals old-growth beech, hickory and oak forest that is home to chipmunks, American mink, turkey, whitetail deer, and a variety of other birds and wildlife.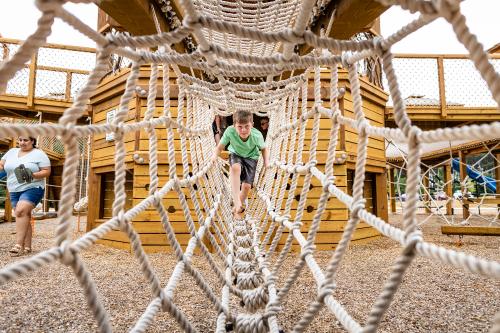 "Awesome playground. Feels like a pirate ship. We had a blast!"
The park's centerpiece is a nature-inspired, treehouse-style, ADA-accessible playground with rope bridges and skywalks, a climbing wall, slides, mountain laurel tunnels, a sky hammock, a vine climb, a rope swing and more, situated on nearly an acre of play space.
"I love this park! The [pickleball] courts are nicely lined and beautiful. It feels like you're playing outside in nature."
Most mornings, it's not unusual to see the park's four pickleball courts packed with players enjoying America's fastest-growing sport. The tree-lined courts are available for open play on a first-come basis. 
"We love the park and the trails! The rangers were super awesome and friendly."
As one would expect with 18.7 miles of multi-use natural surface trails, hiking, running and walking are popular activities at Mountain Creek Park. The park also offers a 0.9-mile paved ADA-accessible trail that winds through a quiet cove. Dog lovers can bring their pups to walk the trails with them on leash or romp unfettered within the 1.6-acre fenced-in dog park. The park's numerous picnic tables, shelters, and benches provide plenty of opportunities for a break, picnic or group gathering.
Anglers, birdwatchers and nature lovers are especially fond of the fishing pier located at the inlet of the creek, where they can get spectacular views of the mudflats and its inhabitants. There's also an outdoor classroom and a small nature center to educate visitors about local plants, insects and wildlife.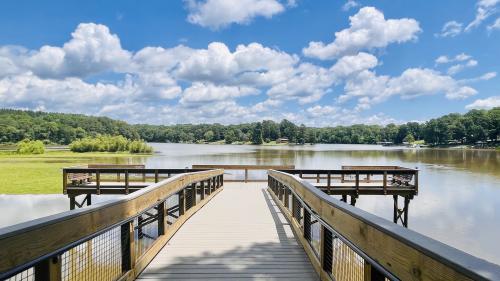 "This is a Catawba County treasure. There's no doubt about that."
With so many amenities and recreational opportunities, Mountain Creek Park is living up to the hype. And for outdoors enthusiasts visiting Catawba County, N.C., and the Hickory metro area, it's just the starting point. The Catawba County Park System's four major parks (Bakers Mountain, Mountain Creek, Riverbend and St. Stephens) offer more than 1,500 acres of natural habitat to explore by foot, bike, paddle (and dog!) seven days a week. If you love the outdoors, you'll find endless ways to enjoy them in Catawba County. Find your adventure at www.catawbacountyparks.org.