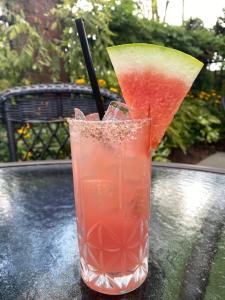 Making their way on the scene here in The Hickory Metro are amazing cocktails, artfully crafted by our local bartenders (Mixologists.) Here is a quick taste of just a few of the specialty drinks you can find around The Hickory Metro: 
The "Watermelon Shuga'" from Café Rule & Wine Bar is a refreshing drink with vodka, fresh watermelon, mint, lime and agave for a touch of sweetness. 
Café Rule & Wine Bar has great food from local farmers combined in new and exciting ways, offering locally sourced eclectic cuisine and an extensive, global wine list in an upscale yet casual setting. With outdoor dining in the garden you are sure to have an evening of fine dining and inviting atmosphere. 
If you're looking to spice it up; be sure to try the "Dirt Bike" with a perfect mix of citrus and spicy. With tequila at the helm they add a splash of lime, agave, jalapeño & a bit of cilantro to make for the perfect balance of fresh & heat!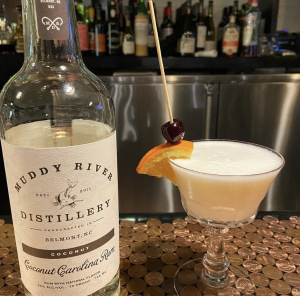 The "Wholelotta Colada" was created by resident mixologist James Vinson at The Charolais Steakhouse. This specially drink features Muddy River Coconut Rum, pineapple juice, triple sec, hand-squeezed sour mix, and a drop of half and half. 
The Charolais Steakhouse is one of Hickory's most well-know and longest running steak house serving choice cut steaks, cooked to perfection. They have a full menu that includes seafood, chicken, appetizers, and their famous homemade soup, salad, and cheese bar. Don't forget about their cultivated selection of wines - which has landed them in Wine Spectator Magazine twice, and signature cocktails. Their resident mixologist is always available to help you select the perfect libation for your evening.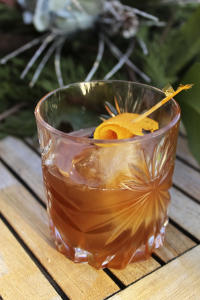 The "Horse's Neck" from Boca restaurant is a drink served warm (perfect for Fall) with 10 year age Torres brandy, grand mariner, orange bitters, and a little ginger ale. Bourbon more your speed? Be sure to check out Boca's Old Fashion which is served with a saffron rice ice ball! Tasty! 
Boca Restaurant is creatively infusing the traditional flavors of the Mediterranean with locally-sourced ingredients into an eclectic, unique menu. Original Moroccan recipes specializing in small plates be sure to check out the "Piquillos" (peppers stuffed with goat cheese) which are a delight and often a hidden gem on the menu. 
The "Bloody Beast" (Bloody Mary) from Standard Oyster Co. is almost a meal in itself. A bit of bloody mary mix and lemon and lime - garnished with pickled veggies, bacon (yum!) and two shrimp and finished with a spicy rim it is one of our favorites on the menu. 
If you're feeling a smidge "spritzier" don't forget the "Champagne Supernova" - yes just like the 90's hit song... it's okay to take a moment to sing a little, we'll wait. But this gem is tasty and light! Pick your poison - Vodka or Gin add the simple, lime and grand mariner but finished with Italian Prosecco for a perfect amount of spritz, sweetness and fun! 
Standard Oyster Company is a purveyor of fresh and seasonal seafood in Hickory. They were cultivated by seafood enthusiasts for seafood enthusiasts. Their mission is to create an energetic dining experience that includes a vast array of oysters and seafood.
For more information on cool cocktails and the restaurants they belong to, visit our Restaurants Page Here!