1. Hart Square Village - Known as the "World's Largest Collection of Log Structures from the 1800's" - Hart Square is home to over 100 Log structures from the Hickory Metro area. Each year the
Village comes to life for the Annual October Hart Square Festival with Hundreds of volunteers and docents working the working cotton gin, original saw mill, pottery kiln, corn husking station, apple butter station and more! Along with the Annual Festival they host Christmas in the Village events, Founders Day events and more! New to the village will be the addition of the Sigmon Family Education Center which is currently under construction. For more information click here! 
2. Southeastern Narrow Gauge & Shoreline Museum - 
3. Murray's Mill - 
4. Hickory Aviation Museum - 
5. Catawba County Fire Fighters Museum - 
6. Harper House - 
7. Henry River Mill Village - The Henry River Mill Village has had a unique and sometimes very eventful history. As the home to a Mill the Town housed workers for the _______ Mill that sat along the Henry River. Workers and families were paid in what is now known as __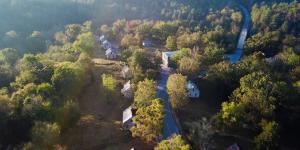 _____ money. With a convenience store onsite the townsfolk rarely headed out into the larger cities near the town. Sitting vacant for many years the Village received new life when it was cast as a site location for the filming of the Hunger Games for Katniss Everdeans home area known as District Twelve. Now the village has a resurgence of visitors and events. New owners have begun repairing many of the village homes to become shops, B&B's and more. The future pans to restore this area are a marvel. Check out their events and more here! Photo Credit: Joe Young Photography
*Looking for even more awesome local historical treasures click here for a listing of other locations!