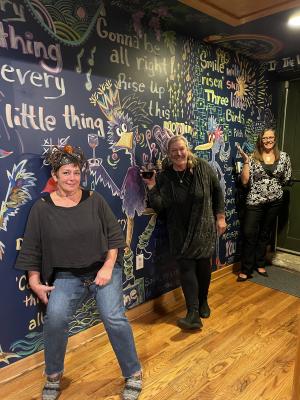 In the heart of downtown Newton, NC you will find the result of one family's vision to create an eclectic and relaxing setting where locals and visitors alike can enjoy and explore everything wine.
3 Little Birds Corks & More finds its perch at 19 N College Avenue. Nested within the thriving and ever-expanding social scene in Newton, an existing wine shop found new life when Kathleen Cleveland and her family put their heads together to make their dream come true.
Growing up in Newton-Conover, Kathleen's family home was the place where everyone would gather. Her mother always said, "The more, the merrier!" When the opportunity to take over Carolina Vines presented itself, Kathleen saw a chance to continue this family tradition. "My sisters and father got together, and we did everything we could to make this dream come true." said Kathleen, "I have the support, love, and encouragement from them, plus Lisa's accounting background and Missy's artist skills and connections, it became a family venture! They each put their time, energy, and sweat into getting the doors open."
T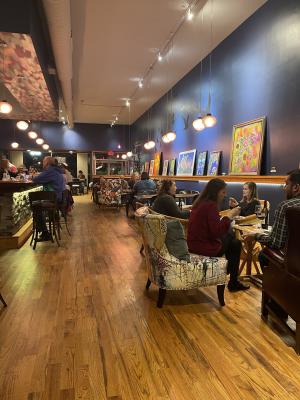 he people of Newton and the surrounding area have also embraced the laid-back, inviting vibe. Missy Cleveland nailed it with her vision of how the place should look and feel. It is warm and inviting, with plenty of art to see and comfortable places to sit and relax. Peruse their bottle selection of small batch, local flavors, and hard-to-find favorites available for purchase in the wine shop.  Members of their Cork Explorer Club can get two bottles of unique wine, with tasting and pairing notes. Members get additional discounts on upcoming wine events, first knowledge of allocations, and wines with limited availability. This is a great way to be introduced to new wines or procure your favorite hard-to-find vintage.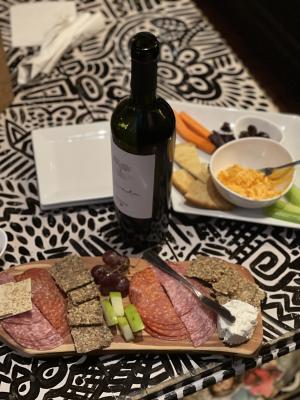 The location is much more than a place to have a glass of your favorite vino. It is an opportunity to explore and expand your wine-tasting palate while connecting with friends new and old. Come in and relax after work, or stop by and pick up wine, cheese, and snacks to take home! Enjoy delightful treats from charcuterie boards, pita pizzas, Bavarian pretzels, and more. They also serve beer for those in your flock who prefer a malt beverage.
3 Little Birds Corks & More is the perfect local wine and social experience for those with refined tastes or others that are just starting to explore. So take up your roost in a comfortable chair, kick back, relax, and take in all that this Newton gem has to offer.
For more information about 3 Little Birds Corks & More, click here!